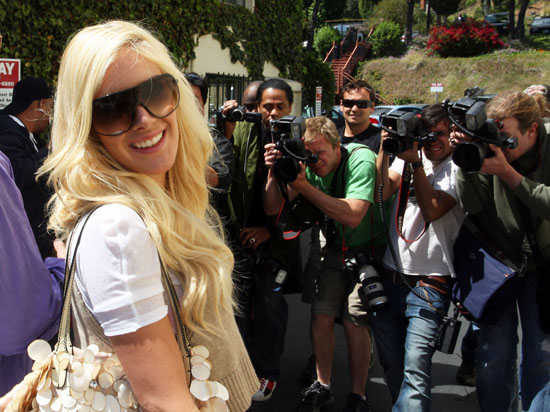 Apparently the cat is out of the bag and reality star Heidi Montag from MTV's "The Hills," and most recently NBC's "I'm A Celebrity," will be posing for the September issue of Playboy Magazine. A source spilled the beans to People Magazine, but didn't reveal too many details, other than it being "tastefully nude," while reps for Montag and the magazine itself had no comment.
Meanwhile, Heidi and her husband Spencer Pratt spoke with MTV News early Monday (Jun 15) and even though they didn't confirm the news, they didn't necessarily deny it either.
"If I were to do Playboy, it would be a huge honor," she told MTV News on Monday (June 15), just hours after her and husband Spencer Pratt's dust-up with Al Roker on the "Today" show. "Many iconic women have done it: Charlize Theron, Sharon Stone did it, Marilyn Monroe. So it's a very amazing, well-known magazine. I would love to do it, but I would do it very tastefully. I think you would have to see, if I did do it." (Note: Theron's photographs were purchased by Playboy and published over the actress' objections.)

She also explained that even though the talks about God/Christianity via her Twitter, she isn't worried about her Playboy spread conflicting with her religious beliefs.
"I'm more of a modern Mother Teresa," she said. "I would take things with moderation. I think God created the body. I think we're born naked. We die naked. I don't think it's something to be ashamed of. I think the body is a beautiful piece of artwork that God created. I have nothing to be ashamed of."
In keeping with playing this childish game of cat and mouse, her husband Spencer dropped a hint that "hypothetically" the issue will hit stands August 15. And the backlash they'll most likely receive for it? He's not worried about it … at all.
"August 15 — hypothetically, if this did happen — you can buy the issue and you can look and see how much Heidi maybe would bare."

"I live in the backlash," he said. "Maybe a little bit more — so scared!"
Just give us a call when these two are done with their 15 minutes.
SOURCES: PEOPLE / MTV
Be the first to receive breaking news alerts and more stories like this by subscribing to our mailing list.