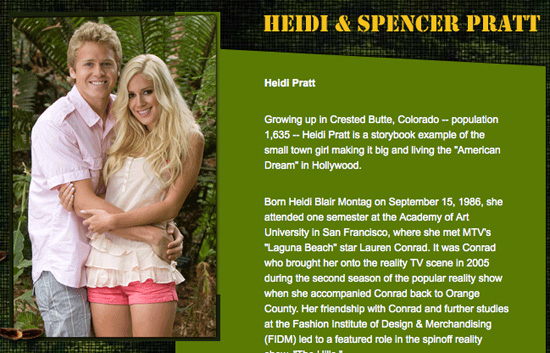 Newly married couple Heidi and Spencer quit on the spot on NBC's "I'm a Celebrity … Get Me Out of Here!" reports TMZ. A highly placed source in the production crew tipped off the website saying that the two followed through with their threat and walked off the set after the live portion of Monday (June 1) night's episode.
And to add insult to injury, Spencer's charity The Red Cross now wants nothing to do with the program. They say what Spencer and his wife did left a bad taste in their mouth, though it's unclear whether they would have received anything anyway since Heidi and Spencer prematurely quit the show instead of being voted off.
UPDATE: NBC brought Spencer and Heidi, collectively known as "Speidi," back to the show Wednesday (June 3) after a lot of begging, pleading and praying, as if God doesn't have enough to worry about these days. But Speidi's return wasn't made easy and the decision for them to actually stay and rejoin the competition will, for the most part, be left up to their celebrity counterparts when they vote on Thursday's (June 4) episode. We won't know if they'll be staying until Monday's (June 8) episode.
The couple also had to sleep an entire night in a chamber with snakes, rats, spiders and other creepy crawlers, which eventually led to Heidi being rushed to the hospital. Of course Spencer tagged along in the ambulance ride and was at her bedside with no questions asked. Neither NBC nor Speidi's reps have officially relased any statements, but various reports say she suffered a stomach infection. And Stephanie Pratt, Spencer's younger sister, believes NBC took it way too far, despite Speidi's "sh*tty antics." This is what she posted to her Twitter:
Im really saddened to hear that nbc felt it was ok to punish speidi so harshly-and torture them as if they were criminals-that Heidi was rushed to the hospital and has an IV in her arm after being locked in a dark room for 3 days w no food or water. Pls pray she will be ok … Her family is flying out to see her in the hospital. I know they pulled some shitty antics-but really nbc?? Too far.
Be the first to receive breaking news alerts and more stories like this by subscribing to our mailing list.