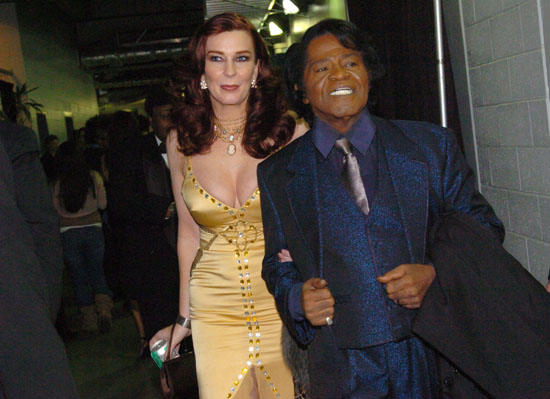 James Brown's estate has been divied-up between his widow, Tomi Rae Hynie Brown, charity and the rest of his adult children. A judge went against The Godfather of Soul's last will and testament in this settlement that was approved Tuesday (May 26). Brown, who died at age 73 on Christmas Day in 2006, stated in his will that his assets should be divided amongst his six adult children but that authenticity of the document, which was filed in January 2007, was called into question and his estate has been in limbo ever since.
The settlement approved by Judge Jack Early states that nearly half of Brown's wealth will be given to his charitable trust, another quarter will be given to his widow Tomi Rae Hynie Brown and their young son James, and the rest will be given to his six adult children.
"I find that the settlement is just and reasonable and provides a just and reasonable result for the charitable beneficiaries," Judge Jack Early said. "From the perspective of the charitable beneficiaries, the risks of not approving the settlement agreement are substantial."
And you know Tomi Rae is excited that she got her piece of the pie!
"I am so relieved and happy that the court has approved this settlement. I want to be able to work with the trustees and other Brown family members to promote James Brown's legacy. My son James and I are grateful to the judge and hope this nightmare is finally over. What James always wanted was the bulk of his money to go to kids. Not just black kids but all poor children to go to college. It's just the matter of giving this man the respect he was due and that is by honoring who he honored and that's his wife and child. And I never doubted that one minute."
Is everyone happy now? We sure do hope so! If not, then oh well…