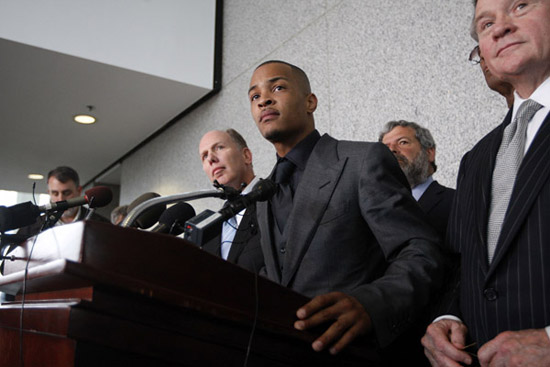 Rapper and Grand Hustle CEO T.I. (real name Clifford J. Harris Jr.) will report to an Arkansas federal prison on Tuesday, May 26th 2009 to begin his very generous one year and one day jail sentence after pleading guilty to felony weapons charges back in March.. According to court filings and a report from The Associated Press, T.I. must report to the Forrest City low security federal prison by noon, where he will join 1,500 other inmates.
A spokesman for the prison says despite his celebrity status, Mr. Clifford will be treated just like any other prisoner.
"Unless there are custody or security concerns, all incoming inmates are placed in general population," R.D. Weeks said.

SOURCE
He'll be living in a double-bunked cell and will have the opportunity to use the rec yard, as well as have the option through counseling and/or participate in one of the facility's 14 religious groups.
And get this! T.I. will most likely only have to spend 61 days (about 2 months) behind bars on account of him being credited for 305 days of house arrest, which he has already served.
Be the first to receive breaking news alerts and more stories like this by subscribing to our mailing list.