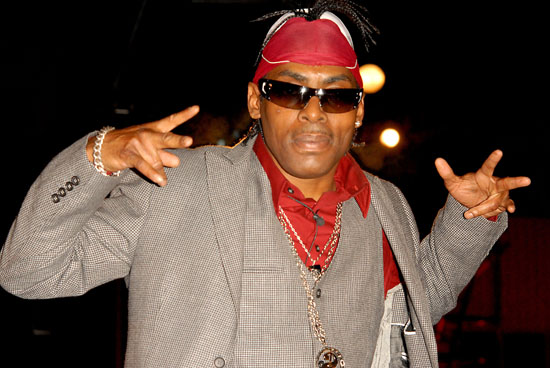 Coolio says this whole situation with him and the crack charges is crazy. In essence … he doesn't give a f*ck! No really, that's what he said! He told TMZ the drugs weren't his and you'd have to be an idiot to put drugs into your bag, saying that he's traveled successfully with marijuana for years. All you do is put it in your pocket (good tip!).
But he says even when his name is cleared, the damage has been done. No one will hear about it not being his. They'll just remember him getting busted with crack.
He has a point there! Peep what he said below:

"Everybody got a family member or a friend that's into something that you can't control those types of situations," Coolio explained. "I just happened to get caught up in the scene…It was just a situation I had no control of, something was in my bag and I didn't even know it was in my bag. They could have did DNA and all kinds of stuff to find out if it was mine but they didn't. They just got the bag and assumed it was mine…If you do bring drugs to the airport, you don't put 'em in your bag you put 'em in your pocket. I used to smoke marijuana and I traveled with it for years, never put it in my bag. I always had it in my pocket. I'm not dumb like that but you know…That was some bullsh*t. The unfortuante thing about this is when my name is cleared, more people are not gonna hear about it than heard about it. That's life in the city, that's life of a celebrity. My family and friends know it's not me. God knows it's not me. In essence I don't give a f*ck."

SOURCE
Be the first to receive breaking news alerts and more stories like this by subscribing to our mailing list.