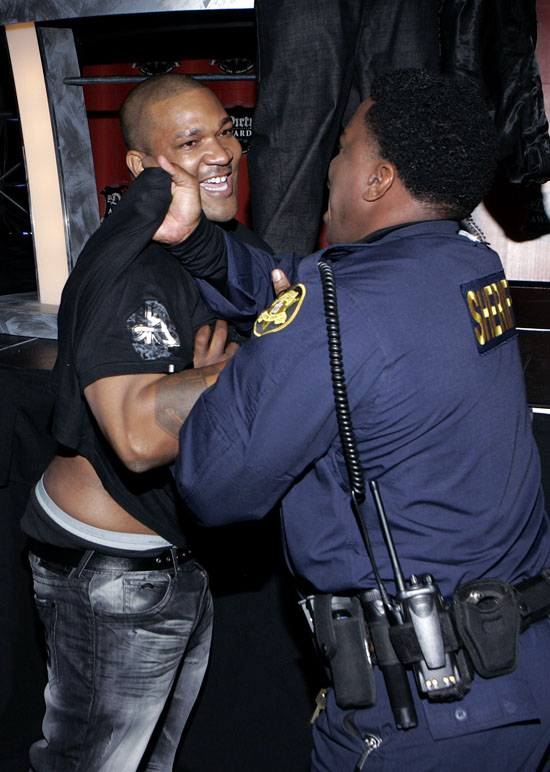 Alfamega (real name: Cedric Zellers) is having the worst week ever. Not only has he been outed as a certified snitch and dropped from T.I.'s Grand Hustle imprint, but to make matters worse, we hear he was sitting in jail when all of this happened! According to a new report by The Smoking Gun, he was arrested April 29th on felony gun and obstruction charges following a confrontation with police. They say he made bail Saturday, but if convicted, he could face up to 10 years in prison!
According to an Atlanta Police Department report, a copy of which you'll find below, police found a stolen .40 caliber pistol in Zellars's SUV during a search of the vehicle following a traffic stop (the Sig Sauer handgun was loaded and had a round in the chamber). After cops discovered the gun, Zellars became "combative and non-compliant" and sought to flee.
Officer Antonio Blasini pepper sprayed Zellars in the face, but the substance "had no immediate effect." Cops chased Zellars to a nearby parking garage, where he was struck with a police baton, again to no effect. In a bid to shake his pursuers, Zellars weaved through parked cars and climbed over the garage wall, jumping "25-30 feet to the ground." The landing was not a smooth one.

The fall "resulted in an injury that appeared to be pieces of bone protruding from his ankle," cops noted. Zellars, pictured in the mug shot above, was booked into a Fulton County jail, where he remained until Saturday when he made bail. Zellars, a predicate felon, has yet to be indicted on the gun and obstruction charges. However, if the gun case were to be handled by federal prosecutors, Zellars could easily be facing more than a decade in prison.

SOURCE
Pepperspray? And they beat his @ss with a baton … and he was still trying to run? That dude must be a beast!
Be the first to receive breaking news alerts and more stories like this by subscribing to our mailing list.