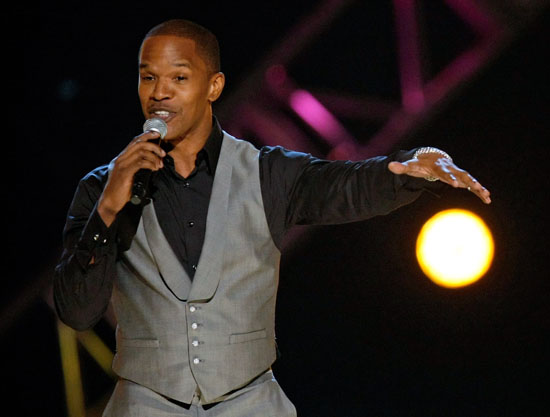 Jamie Foxx is hella paranoid about someone stealing his precious Oscar right out of his home. In fact, he's so paranoid, he's given his manager the responsibility of safeguarding it. The actor received the award for his role as Ray Charles in the 2005 biopic titled Ray, and says he doesn't keep it on display because he has too many people coming in and out and he doesn't want it to come up missing.
He tells Moviefone.com, "My manager keeps it in his house. I got too many people coming to my house. I don't want it to walk off. People stealing it and leaving me with an Oscar Mayer (meat product) instead. Like, what's this doing here?"
In other Jamie news, he recently talked about what really went down in a Philadelphia, PA hotel last month when a crazed fan (aka stalker) tried to force his way into Jamie's room claiming to be a part of Beyonce's entourage.
"I open the door and there's a guy with a beard and braids… He goes, 'Hey, I'm with Beyonce', and that's when I went, 'Hell, I know this n**ga ain't hanging with no Beyonce!' So I'm like, 'You said what?' And he goes, 'I'm with Beyonce, Jamie, you gonna let me in? What's going on?'

"He's trying to get in the door, I get him out the door, slam the door on the n**ga, call the front desk, and the concierge, he's like, 'Whatsoever did you mean there's someone trying to get in your room?' I'm like, 'Motherf**ker, call the authorities, this s**t is going down! Call somebody!'

"(But) he don't wanna come up there 'cause he's thinking it's some bull. So he don't come up, one of the cleaner dudes come up there. He (Taliver) gets spooked and runs downstairs."

Foxx adds, "The next day I go to work, the dude comes back dressed as a delivery man. So he comes back in disguise, they let him back in again… We finally get the undercover cops… The dude comes back the last day, the third day… So this time the police chase him down the street, they catch the dude, they take the dude in and now he's in a mental hospital for a 60-day evaluation, so this motherf**ker was crazy."
Taliver is currently under mental evaluation at Norristown State hospital and is awaiting a hearing on the status of his mental health due to take place June 5th.
Be the first to receive breaking news alerts and more stories like this by subscribing to our mailing list.