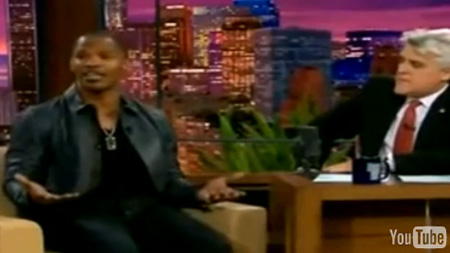 For some reason Miley Cyrus (Hannah Montana) felt like she had the pull to "ruin" Radiohead after they refused to meet her backstage at the 2009 Grammys. She said she left early and didn't even watch them perform at the show because she was so upset about their snub. She event went as far as saying, "I'm gonna ruin them, I'm going to tell everyone."
Well Sunday night, someone called in to Jamie Foxx's satellite radio show, The Foxxhole, and mentioned the incident. And Jamie and the crew went in HARD on little Hannah Montana, calling her a "little white b*tch" and describing her as the girl "with all the gums." Jamie and his on-air crew continued with what people feel were out of pocket comments, saying that she needs to go make a sex tape and "go get like Britney Spears and do some heroin."
Jamie has since then (Tues. night to be exact) apologized to Miley on The Tonight Show with Jay Leno, saying that he was sincerely sorry and agreeing that he did go way out of line with his comments, considering Miley Cyrus is a 16-year-old kid and he has a young 14-year-old daughter himself.
"I so apologize to [Cyrus], and this is sincere. I am a comedian, and you guys know that whatever I say, I don't mean any of it. And sometimes, as comedians, as we do, we go a little bit too far. We go at everybody! There was a situation with Miley Cyrus, and I just want to say, I apologize for what I said. I didn't mean it maliciously. You know I'm a comedian. You know my heart. Miley, I apologize, so I'll call you. I got a daughter too, so I completely understand."
Continue reading to peep the apology video and to hear for yourselves what Jamie had to say about Miley Cyrus!

Be the first to receive breaking news alerts and more stories like this by subscribing to our mailing list.