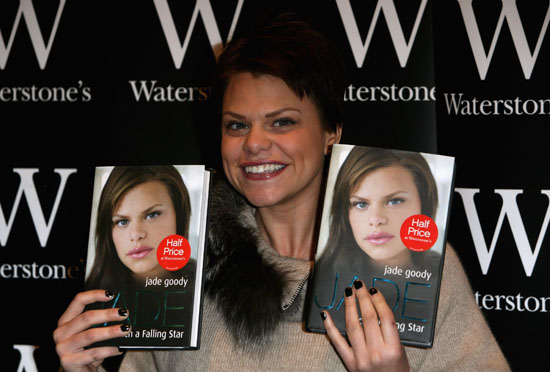 British reality television star, Jane Goody, who rose to fame back in 2002 after being on the UK's version of Big Brother, has reportedly passed away at her home in Upshire, south east England in the early hours of Sunday. The tv personality was battling cancer.
The TV personality was diagnosed with cancer while appearing on India's reality show Big Boss last August (08), and underwent an emergency hysterectomy. She bravely battled the illness by undergoing chemotherapy, subsequently showcasing her pain and hair loss on TV in reality show Living with Jade Goody. Her cancer spread to her liver, groin, and bowel and she was told earlier this year (09) that her chances of survival had been dramatically reduced. Just days later, doctors gave Goody the devastating news that there was nothing more they could do, and she only had months to live.

After her death was announced, Goody's mother Jackiey Budden said: "My beautiful daughter is at peace."
Goody carved out a lucrative career through magazine and book deals and starring in a string of reality shows. Hugely popular with celebrity magazine readers in the U.K., Goody's good fortune was left in tatters after she was accused of racism over comments she made to Bollywood actress Shilpa Shetty during the filming of Britain's Celebrity Big Brother in 2006. After her cancer was announced, Goody documented her struggle in a series of U.K. press interviews, admitting she was eager to earn as much money for her children in case she died from the disease. Just weeks before her death, she wed her sweetheart Jack Tweed in an emotional ceremony – banking an estimated $1 million (£750,000) from a magazine deal for the poignant wedding pictures. A week later (07Mar09), she and her two sons Bobby, five, and four year old Freddie, were christened.
Our condolences go out to her friends and family.
PHOTOS:WENN / GETTY IMAGES
Be the first to receive breaking news alerts and more stories like this by subscribing to our mailing list.