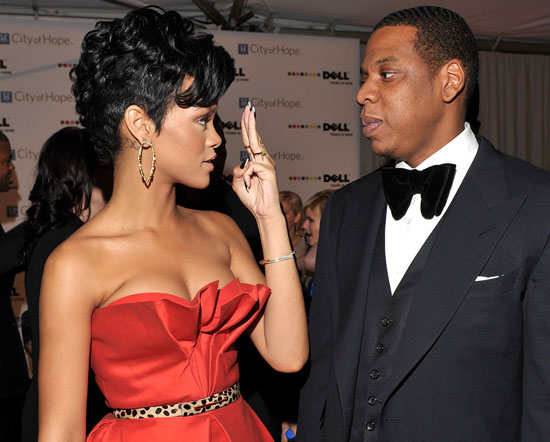 We wouldn't go as far as saying that Jay-Z was the man who was single-handedly responsible for Rihanna's rapid shoot to stardom, but he did play a major role in her career, and has thusfar. When asked for words of support for Rihanna at his Two Kings dinner:
"This is a real situation," he said in Phoenix at the Sprite Green presents the Third Annual Two Kings dinner with Jay-Z and Lebron James, as part of the NBA All-Star Weekend. "You have to have compassion for others. Just imagine it being your sister or mom and then think about how we should talk about that," the hip-hop mogul, 39, continued. "I just think we should all support her. She's going through a tough time. You have to realize she's a young girl, as well. She's very young."

Asked if he'd seen Rihanna, Jay-Z replied, "I don't want to go into it."

SOURCE
Even though a person in Jay-Z's camp claims he said something to the tune of: "Chris Brown done f****d up now, he better watch his back" this is Jay's first time actually speaking out in public about the incident.
Be the first to receive breaking news alerts and more stories like this by subscribing to our mailing list.