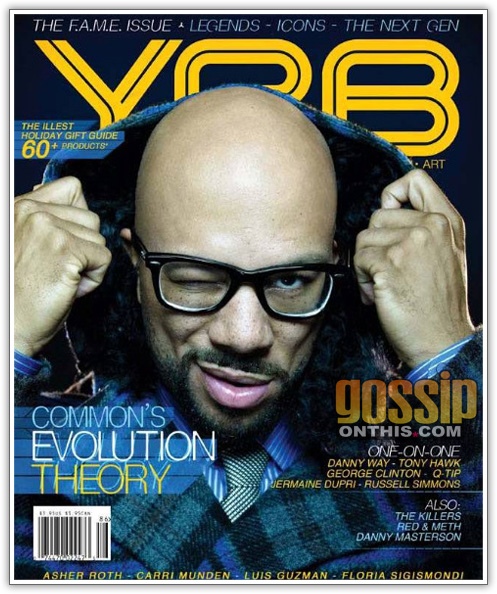 Common covers the December 2008 issue of YRB Magazine. In this issue Common talks about what made him start acting, his tour with N.E.R.D, his legacy in hip-hop, and his new album: Universal Mind Control.
YRB: Earlier this year, you mentioned the up-tempo tone of Universal Mind Control as a response to going to clubs and not hearing your own music. Was that a conscious plan going into recording?

Common: I think it evolved naturally. My experiences always come through in my music. I ain't get up to Pharrell and say, "Make dance music." Those words never came out of neither one of us. But in my mind, I knew I wanted to have some music that people could dance to. When I did Electric Circus [in 2002], I wanted to do some music that was "out there." That was the only way I could describe it to the producers. That's what my experiences were and what I was listening to at the time. This time, I was inspired to just make fun music. A lot of people see what's going on in the world and awareness is at a high level. The information is out there. At this point in my career, it's not necessary to tell people what's going on or how to resolve the situation. More than anything, I wanted to give people something they could enjoy. A lot of times, I still was having fun in my life but I felt I needed to make some music that could inspire some people in other ways.
Universal Mind Control is IN STORES NOW so make sure you go out and support! Click HERE to read more of the interview.
Be the first to receive breaking news alerts and more stories like this by subscribing to our mailing list.