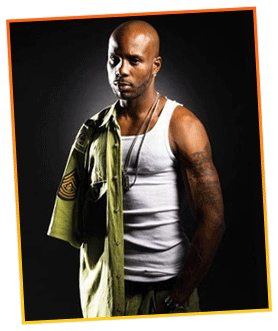 Guess who's in the news once again for being arrested? Our friend in the head DMX! Yesterday, Sheriff Joe Arpaio of Phoenix, Arizona put out a message offering a $5,000 reward for anyone with any information that may lead to DMX's arrest. And today, after hearing about the award worth 5 G's, a Georgia woman tipped off Florida authorities about the rapper's whereabouts, and he was apprehended by FBI agents at Scott Storch's Palm Island mansion in Miami, Florida, that was foreclosed and taken way from the broke producer back in July of this year.
He's wanted for animal abuse, drug possession and theft of services charges for defrauding a local clinic of $7,500 in services back in April when he used a fake name to escape medical bills. His friends say he's in rehab right now trying to kick his long-time drug habit.
If he doesn't post a $120,000 cash bond by tomorrow, he'll be extradited back to Arizona and they'll handle him there.
Now, our question: What the hell was he doing at Scott Storch's house?
Be the first to receive breaking news alerts and more stories like this by subscribing to our mailing list.