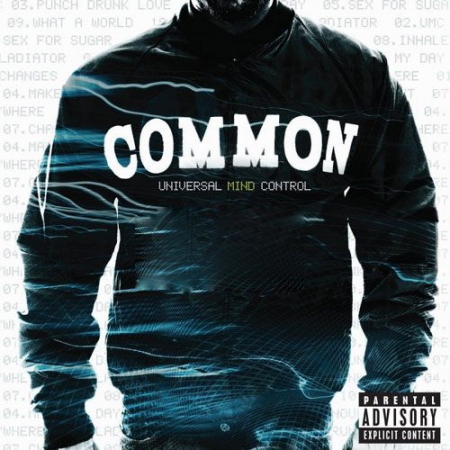 Common took it back!  Common did a 180 and took hip-hop back to its days of electro, teaming up with Pharrell Williams, who comes off like a modern day version of the 1980s studio whizzes. While we're used to Common in the role of poetic prophet or self righteous rhyme slayer, Universal Mind Control is primarily a rhythmic celebration, paying tribute to Afrika Bambaataa and Jonzun Crew jams.
When venturing into the album, we couldn't help but notice that the Chicago native son brings cut-ups and, with reloaded Roland 808, charged tracks blazing through our speakers. Kanye West is a guest artist on "Punch Love," which conjures futuristic sound that has you instantly hooked. We're huge fans of Prince and couldn't help but to notice the obvious inspiration of "Sex for Suga."
Common doesn't just stop there on this gem. He gets political with the pro Obama, "Changes," reflecting the need for change and development. The album contiunes to dazzle us. The album draws from inspration from the funky foundation of 60's and 80's music.
Overall, we weren't quite sure how to take the albums effort to give us sex, hip, pop, and classic political Common at once. It was a little overwhelming but extremely enjoyable. Common never fails to deliver, and this will make an excellent Christmas gift – PURCHASE, PURCHASE, PURCHASE.
Be the first to receive breaking news alerts and more stories like this by subscribing to our mailing list.