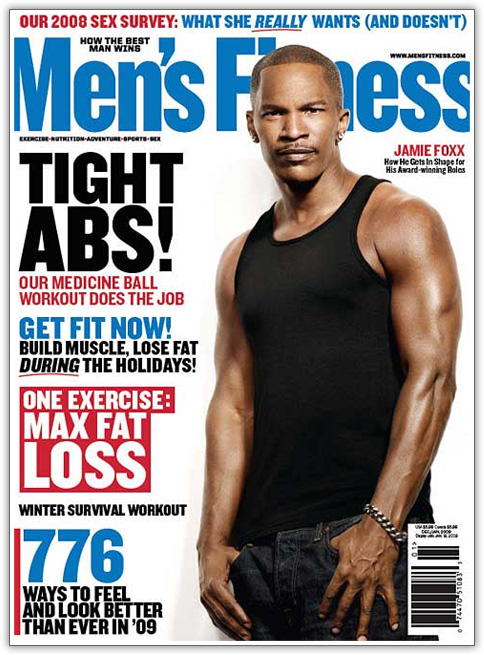 Jamie Foxx is looking oh so good on the November 2008 cover of Men's Fitness Magazine. In this issue Jamie talks about how he gets in shape for different movie roles and why he feels it's important to look different in every role. Peep out what he had to say about changing his look for his new movie, The Soloist.
From playing a professional quarterback in Any Given Sunday to starring as the legendary Ray Charles in Ray,Academy Award-winning actor Jaime Foxx has been willing to do what ever it takes to transform his body to fit his characters. In the December/January issue of Men's Fitness, Foxx, a former high-school quarterback reveals the secrets and rigors of preparing for some of his most physically challenging roles and why he is willing to make such sacrifices to reach the top of his field. "Awhile back, I did this tribute for Al Pacino," he says in the issue. "Look back on his body of work and you see the different ways he's changed. … I want people to look back on [my] body of work and say,'Wow, it's like he morphed into different characters."

"I spent hours getting the nuances of the person, making him real. Something angelic happens and you actually become that person. For Nathaniel, I pushed things a bit. I lost about 20 pounds and I put a gap in my teeth. I had one (of my teeth) chipped out with a chisel. My teeth are just so big and white – a homeless person would never have them. I wanted to break up my big, shining piano keys to five them a little character. Some might think I f*cked up my grill for nothing, but I just wanted to come up with some s— to make the part unique."

[ SOURCE ]
Be the first to receive breaking news alerts and more stories like this by subscribing to our mailing list.