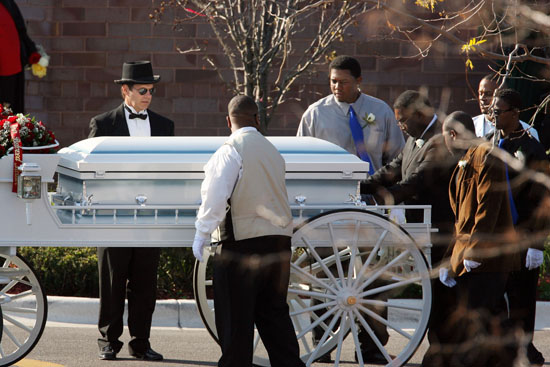 PHOTO: GETTY IMAGES
Dreamgirl Jennifer Hudson paid her final respects to her mother, her brother, and her nephew yesterday at a private funeral service in Chicago. But she wasn't there alone. According to the Chicago Tribune, the singer had the support of over 2,500 mourners, including fellow celebrities Fantasia Barrino, Oprah Winfrey, Usher, Missy Elliot, and more.
The day began with the estimated 2,500 mourners filing past the open caskets of her mother, Darnell Donerson; her brother, Jason; and her nephew, Julian King. Shortly before the funeral service commenced at Apostolic Church of God on the South Side, Hudson rose from her second-row pew and spent a few moments with each family member, attendees said. She went first to Julian, 7, who was dressed in white to match his casket.

She then moved to her mother, the matriarch who encouraged her to try out for "American Idol" and wouldn't leave her Englewood home despite her younger daughter's fame. The actress lingered at her mother's light pink casket and gently touched Donerson before leaning down to kiss her goodbye.

Hudson paused at her brother's blue casket before returning to her seat, where she joined her fiance, reality-TV star David "Punk" Otunga, and her sister, Julia. Hudson's composure amid the heartbreaking goodbye became the day's defining moment for many mourners.

"Jennifer is the pillar," family friend Glover Lewis said as he left the Woodlawn church. "It's obvious she's holding the family together."
Click here to read more.
Be the first to receive breaking news alerts and more stories like this by subscribing to our mailing list.