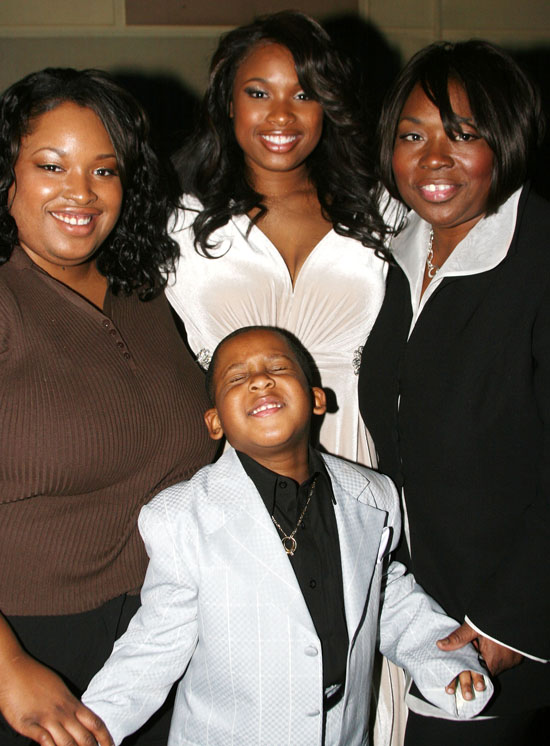 PHOTO: GETTY IMAGES
Some devastating news hit the web this afternoon. Dreamgirls star Jennifer Hudson's mother and brother were found dead in a home on the South Side of Chicago earlier today. Police have marked the home a crime scene and suspect that the deaths were the result of a domestic dispute.
Public records show the address listed to a Jennifer Hudson and Darnell Donerson, the name of the singer's mother. Police tape blocked access to the large, white house, where a crowd gathered outside.

Authorities issued an Amber Alert for 7-year-old Julian King, and were seeking a 1994 white Chevrolet Suburban. The child was the grandson of the female victim, Patterson said, and Bond added the boy could also be a relative of Hudson.

The alert said the child was possibly abducted, and accompanied by a man — considered armed and dangerous — who was a suspect in the double homicide investigation. The two could also be in a teal or green Chrysler Concord with a temporary license plate, a left front headlight hanging out and scratches on the left side of the vehicle, police said.

A publicist for Hudson at her record label said she was not aware of any incident involving Hudson's mother. She did not immediately return subsequent messages. An e-mail sent to Hudson's personal publicist was not immediately returned.
On behalf of Gossiponthis.com, I would like to offer my condolences to the Hudson family at this obviously difficult time. Please keep them all in your prayers as this story develops…
UPDATE [11:45 PM EST]: TMZ is reporting that Jennifer Hudson's sister, Julia (pictured above), is missing! She works as a bus driver and her employer told the site that Julia worked her shift today, but hasn't been scene since. This is beyond crazy!
UPDATE [12:59 AM EST – SAT.OCT.25]: According to MTV, a suspect has been determined and has subsequently been arrested! The suspect is said to be William Balfour, a man involved with Hudson's sister, and apparently the father of the missing boy.

Be the first to receive breaking news alerts and more stories like this by subscribing to our mailing list.