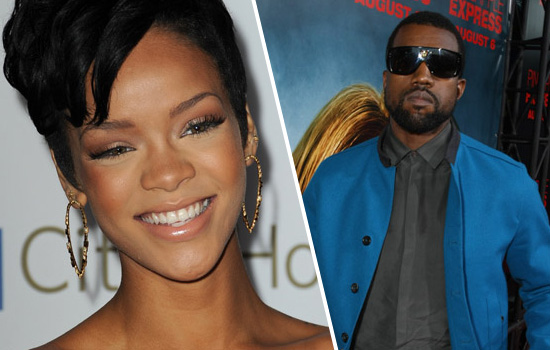 PHOTOS: WIRE IMAGE
This sh*t is probably faker than Yung Berg's rap career, but we all like to hear a little juice every now and then, right? Word on the sidewalk is that Rihanna and Kanye West shared a kiss at rapper T.I.'s MySpace concert at the Key Club in Hollywood recently. Now we all know Kanye is kinda sorta riding it solo for the time being, but we also know that Rihanna and Chris Brown are an item, and have been that way for a little minute. Here's what a snitch "revealed" to Star Magazine:
"Rihanna and Kanye hung out together after they performed their songs," says an insider. "Rihanna was sitting on Kanye's lap, singing along to the music. Before long, the two were full-on kissing each other." Adds the source, "People were shocked. After a while, Rihanna must have realized people were watching, because she had her security escort her back to the dressing room."
Now before you go tell your friends that Rihanna is cheating on Chris Brown, you should note where the source of this information comes from. Star Magazine is a slightly tamer (and slightly more professional) version of Media FAKE Out. So anything published on their website should be taken with a grain of salt.
Be the first to receive breaking news alerts and more stories like this by subscribing to our mailing list.