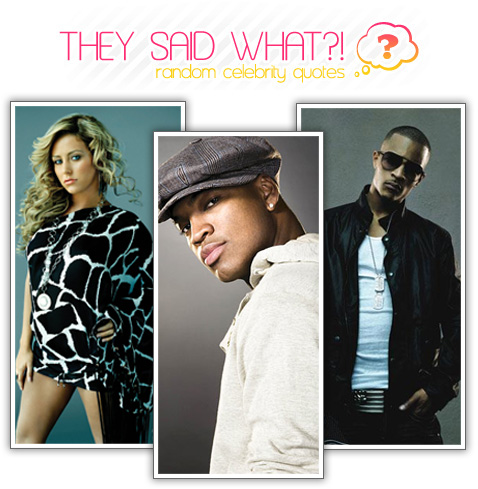 NE-YO ON R&B MUSIC AND SEAN GARRETT »
I don't wanna name any names right now. You're gonna get me in trouble. But you know what I'm talking about. There was an era when R&B wasn't hot. … The whole hip-hop/R&B era just kinda threw me for a loop. Around early 2000 when every song kinda sounded like (one note repeated). Like for real, one note the whole song? That never made sense to me. 'Cause like, if you're gonna rap — rap. If you're gonna sing — sing. Don't try to do this combination hybrid of the two of them that sounds like (garbage). I didn't dig it. I just never got into it

…Everybody was very much hip-hop/R&B. Everybody was very much Ciara- and Sean Garretted-out. No disrespect to Sean Garrett (writer of Ciara's debut single "Goodies"), but I think he kind of fathered that era.
AUBREY O'DAY TALKING ABOUT HER FETISH »
I usually watch black guys doing white girls, that's my little fetish, even though in real life race isn't a factor for me. Really, I'm more turned on by watching the girls than the guys. I love someone who looks like they're really into sex. READ MORE
TI DENIES CLAIMS THAT HE IS A DEAD BEAT DAD »
A lot of deceiving information has been reported regarding my recent child support proceeding," the statement reads in part. "It is unfortunate that the media has been used to manipulate the circumstances and distort the facts. Those that know me all know that there is nothing more important to me than my children. I have always supported all of my children financially, emotionally and spiritually. This has always been the case, and I will continue to do so in the future as this is my responsibility as a parent.
Be the first to receive breaking news alerts and more stories like this by subscribing to our mailing list.