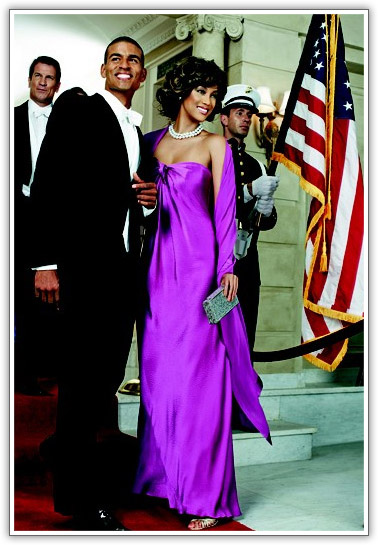 Tyra Banks is featured in and covers the September 2008 issue of Harper's Bazaar. In this issue Tyra poses as Michelle Obama and talks about how she has been inspired by the future first lady.
With Barack Obama, his becoming president is them becoming president because Michelle was there from the beginning. Without Michelle, he wouldn't be there." Or, as she pronounces to her Tyra Banks Show camera after her Oval Office portrait, "Michelle Obama, you're one hot mama."
"Being first lady is not just about being the wife but really taking command and having true vision," Banks adds, noting the infinitely tricky terrain of being a woman in politics. "Hillary Clinton was on my show in January, and I asked her, 'Do you ever just get terrified to say anything? Because everything is so scrutinized and picked apart and dissected?' And she said, 'Honestly, Tyra, yes!' And it's the same for Michelle Obama, especially with her and Barack being the first, you know, in so, so many ways."

If Banks ever reached the highest office in the land, she would dress the part. "I'd wear a V-neck shift and a two-inch heel. Even if the president were taller, I would keep them low. Otherwise it gets a little too sexy. I mean, I was a high-fashion model, but I was also a swimsuit model and a lingerie model, so I would constantly be making sure that I wasn't looking like that." As for hair, perhaps a Jackie/Michelle-style flip? "Nooo, my question isn't to flip or not to flip. Mine would be to weave or not to weave." What would be her Secret Service acronym? She pauses, smiles broadly, and replies, "KMFA: Kiss My Fat Ass." [CONTINUE READING]
What do you guys think about the photos?
Be the first to receive breaking news alerts and more stories like this by subscribing to our mailing list.