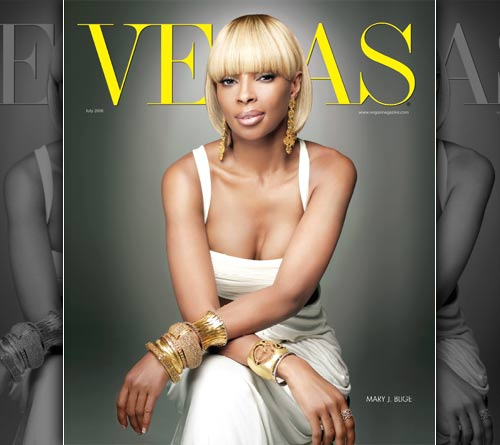 R&B singer Mary J. Blige is featured on the cover of the July 2008 issue of Vegas Magazine.
BY: ISOUL HARRIS » Mary J. Blige has a certain distaste for this country's favorite pastime, American Idol. But she won't admit it outright. "I haven't really watched it since Ruben [Studdard] won," the singer tells me after cutting her workout short and grabbing the phone at her New Jersey home for our interview. But whether she likes it or not, she does think the juggernaut show does the contestants a huge disservice. "Honestly, it's not giving most of them a real chance to become an artist for the rest of their lives," she explains. "They are on national TV every night. They have automatic fame. All of the greatest artists had to struggle for their success."
Trials, tribulations and struggle are very familiar to Blige, 37. Raised in the Schlobam projects in Yonkers, New York, she endured what many have come to view as the cliched ghetto-child experience: missing father, struggling single mother and surrounded by violence and despair. Then she wandered into a karaoke-style recording studio in the Galleria mall in White Plains, New York, and recorded Anita Baker's "Rapture." The tape landed in the hands of then Uptown Records president Andre Harrell, who quickly signed her. But she sat in record-label limbo and performed as a back-up and session singer for three years before releasing her breakout album, What's the 411?, in 1992. Fast-forward 16 years, eight albums and 40 million records–with plenty of drugs, alcohol, heartbreak and career ups and downs in between–and Blige now stands at the height of her career.

She decided to clean up her life after R&B singer Aaliyah died in a plane crash in 2001. But it was Blige's rousing post-9/ll performance of her hit "No More Drama" on the globally televised 2002 Grammy Awards that took her from the "Queen of Hip-Hop Soul" (a title given to Blige by her former producer/manager Sean "Diddy" Combs) to mainstream favorite. Bono and Elton John have been singing her praises and performing with her all over the world. Now she is featured in GMC television commercials and posing in the car brand's print ads with her husband/manager…
Be the first to receive breaking news alerts and more stories like this by subscribing to our mailing list.