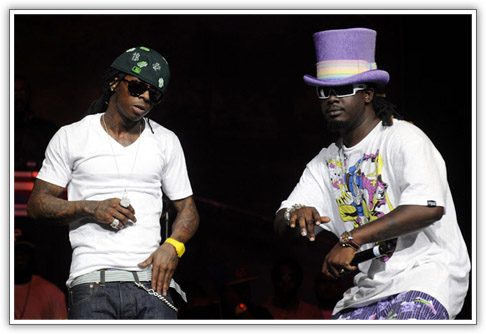 MIAMI, FLORIDA // SATURDAY, JUNE 28TH 2008 » On Saturday I had the opportunity to attend the "South Florida Summer Fest 2008" Concert featuring Birdman, DJ Khaled, Ace, Colby O'donis, Casley, Keyshia Cole, Akon, Lil' Wayne and More live from The BankAtlantic Center. The show started at exactly 7:00 PM with opening acts Selena Serrano, S.O.U.R.C.E International Clique, Michelle Del Amore, Wyneter Gordon, and a bunch of local artists performing their radio hits like Grindmode's "I'm so "High" and "Ecstasy", Ball Greezy's "Shone", Colby O'Donis' "What you got", and last but not least Casely (if you think Chris Brown, Usher and Ne-Yo imitate MJ alot, then you haven't seen Casely live!) who performed really well, but WAY too long for an opening act, sang about 4 or 5 songs from his upcoming album 1985 including his radio hit "Emotional".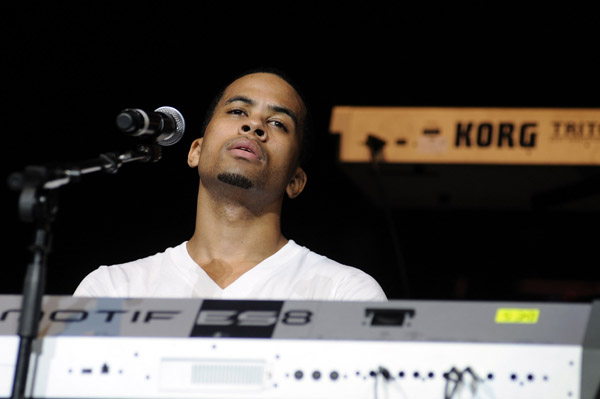 The first big name performer was Keyshia Cole who slowed things down with her single "Heaven Sent", but quickly sped it back up with "Shouldve Let You Go" followed by "Let It Go" and "Last Night" Keyshia did her thing and put on a great show ,but the highlight of Keyshia's set had to be when she performed "I Remember" (her vocals where insane!) after talking to the crowd about her mother and her childhood.
Keyshia was followed by DJ Khaled and guest T-Pain singing the radio hit "I'm So Hood," which he started over 2 or 3 times until his request to have all lights on were met (if you think people get hyped with lights off, try it when their on!). Khaled had everyone on their feet throwing up their 305s (Miami-Dade County), 954s (Broward County) 561s (West Palm Beach) and 904s (Duval County). The performance got even more crazy when Khaled's protégé Ace Hood came out to perform his hit single "Cash Flow". Khaled thanked BET for allowing Miami to be heard at the 2008 BET Awards before ending his set with "We Takin' Over" ft. Akon which kick off his hour-plus set.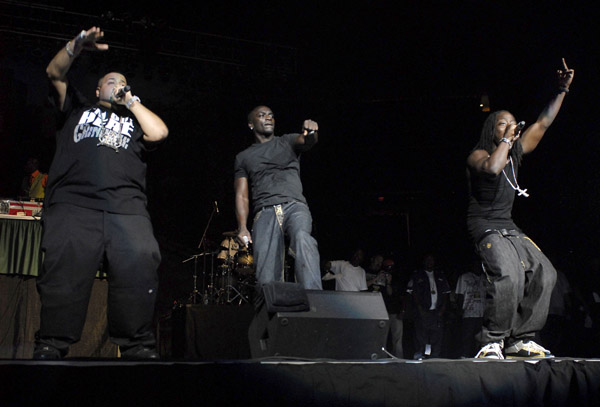 Akon took over BankAtlantic, sharing the stage with T-Pain for the evening, who made sure we knew he was there, in a ridiculous purple outfit (top hat included). They started off with "Bartender" and kept the crown entertained with throwback's "Ghetto" and "Lock'd Up", and even did alittle bit of "Soul Survivor" and "Sweetest Girl". T-Pain even stop in the middle of the performance to share a few choice words with the crowd about people saying he steals his music. After a little strip tease for those ladies interested, Akon went into "I Wanna Love You" and then started a battle between the right side, center, and left side of the arena seeing which was the loudest and went into the audience to perform for each side. Getting grabbed, pushed, and even having paper thrown at him didn't stop him from continuing his performance (off stage and in the audience) with "Snack That", "Sweet Escape", "I tried so hard" and "Dangerous" with guest Kardinal Official.
After a 30-40 min wait an entourage of 20-plus walked on stage and stood there, the crowd started screaming and then literally out of nowhere Weezy appeared on stage in bright neon yellow air forces performing throwbacks like "Back That Azz Up","The Block is Hot", and "Go DJ", and as if the crowed wasn't hyped enough, Wayne yelled
The Roof … The Roof .. The Roof is on Fire. We don't need no water …
and when the crowed finished, he corrected them with
Noooooo! Ya'll suppose to say, we don't need no water cause we got the Fireman
Then the beat for "Fireman" dropped and the crowd went bananas! Then Wayne brought out Miami native Brisco to perform "In the Hood" followed by "I Feel Like Dying". Wayne then got women of all ages hot and bothered when he started performing "P*ssy Monster" acapella. Then Birdman came out to help Wayne perform hits like"Stuntin Like My Daddy", "Leather So Soft", featureing Wayne on the guitar, which didn't sound bad, and then of course, "Pop Bottles". Wayne even performed some music from his latest album The Carter III including "A Millie", "Comfortable", "Shoot Me Down", "Got Money", and "I'm Me" and ended his set with his chart topping single "Lollipop". Weezy shut it down and was the only performer who had the entire BankAtlantic Center on their feet throughout the entire set! I really enjoyed the concert and thought each and every performer did a good job, even Michelle Del Amore's dancers who were a hot mess for forgetting their routine, bumping into each other, and stopping in the middle of the performance and then jumping back in when they remembered what went next!
I have some pictures and Video from the concert. The quality is not that good but if you want to see it e-mail me at Kennesha@Think2wice.org and I will send it to you. If you want to know what anyone has on in the pictures above like Weezy's ($130) Yellow Nooka Zub 20 Zot Watch, e-mail me! You know I got cha!
Be the first to receive breaking news alerts and more stories like this by subscribing to our mailing list.