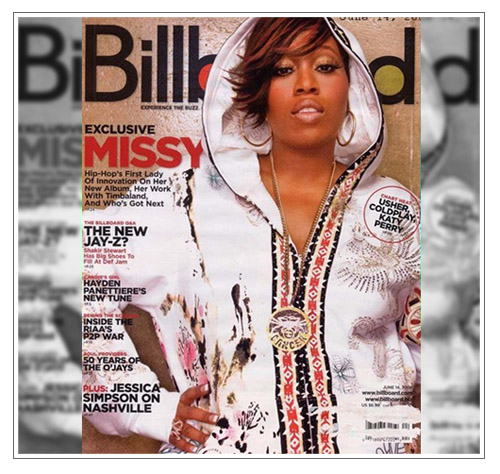 Missy Elliott covers the June 14th issue of Billboard Magazine. In this issue of the mag Missy talks about her new album Block Party, what she's been up to, and her new style.
Missy on how she got the name for her album:
I actually chose two. I'm releasing a preview to the album in the summer titled "Fanomenal." When I saw all the people that entered the contest, I was overwhelmed. So I'm dedicating that one to my fans because they've rolled with me since day one. I'm still up in the air about the name for the actual album, but for now it's "Block Party." The reason for that is because there are a lot of dance joints on there.
Missy on what we can expect from her album:
This album is probably more musical and melodic than my previous ones. A lot of my albums are really hip-hop-driven, with tinges of other music genres. But this album is hip-hop, with a sort of U.K. hip-hop sound to it.
Missy on the state of Hip Hop:
I hear a lot of great songs. And then I hear some that aren't so original and creative. Back in the day artists had their own styles. You couldn't say Heavy D sounded like Rakim, or Salt-N-Pepa sounded like MC Lyte, or Big Daddy Kane sounded like Erick Sermon. These days, people try to follow a formula because they see it's worked for others. But that keeps them from being original and creative, (or) at least not as original and creative as it used to be before.
Block Party is scheduled to drop this August!
Be the first to receive breaking news alerts and more stories like this by subscribing to our mailing list.