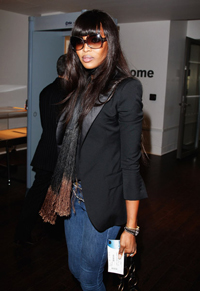 PHOTO: WIRE IMAGE
Supermodel Naomi Campbell, who is famous for her deranged temper, was arrested at Heathrow airport in London after she reportedly spat on and physically assaulted an officer. According to UK's The Sun, what set Naomi off was the fact that the airline had lost one of her three bags. Apparently the bag never made it on to the flight. The airline allegedly assured the model that her bags would be located, and returned to her soon, but obviously that wasn't enough.
She began harassing airline staff who called cops as the flight was called and Naomi walked onto the plane. She was still yelling at boarding card staff as she took her seat. Three officers from the MET's SO18 Aviation security branch then came onto the plane. They tried to calm the model down, but she is alleged to have reacted by spitting at an officer and then laying into him with her fists. Frenzied Naomi was bought under control after a struggle and then physically hauled off the plane. Cops were called and she was heard screaming "get off me, leave me alone" before she attacked one and was taken away to Heathrow police station.

An eyewitness said: "She attacked a male police officer and spat at him and she was taken to the airport police station."

A Heathrow spokeswoman said: "We can confirm that a passenger was removed by police from a BA flight this afternoon."
That damn Naomi! I'm guessing she didn't learn from her last bout with the law…
Be the first to receive breaking news alerts and more stories like this by subscribing to our mailing list.