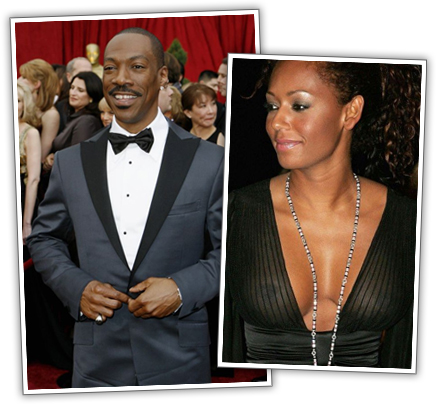 Actor/comedian Eddie Murphy has made it clear to the public that Melanie Brown (aka Mel B or "Scary Spice") deliberately tricked him into getting her pregnant. According to The Daily Mail, the former Spice Girls singer stressed to the actor that she was on birth contol, and Eddie claims that the former couple only had sex 3 times. And although he accepts the fact that Angel Iris Murphy-Brown is indeed his daughter, a source close to Eddie says that he will not see her until she's 18 years old. Why? Because he doesn't want to set eyes on Mel.
"What was supposed to be a casual relationship ended with her having his baby and taking him to court for millions," a source told The National Enquirer. "He says he will have to wait until Angel is older before he can get to know her without any interference from her mother."
So basically the two were only supposed to be "friends with benefits" and home girl took it to another level by lying about her being on birth control. While I can't (and won't) take sides on this situation, I will say that they BOTH are wrong. She shouldn't have lied to him, telling him that she was on the pill, when she knew she wasn't. Or even if she was, if she stopped taking her birth control just so that she could cash in on the man's fortunes by having a baby with him, that's wrong as well. And as far as the situation on Eddie's side goes, he had no business having unprotected sex with someone if he didn't want to have a baby with them. Fellas, unless a woman is your wife, you should never trust the "I'm on birth control" nonsense.
Regardless of the circumstance, Eddie needs to step up to the plate and be a father to this baby. The little girl should not go through the next 18 years with some other man raising her. In the long run, Eddie will regret this.
Be the first to receive breaking news alerts and more stories like this by subscribing to our mailing list.