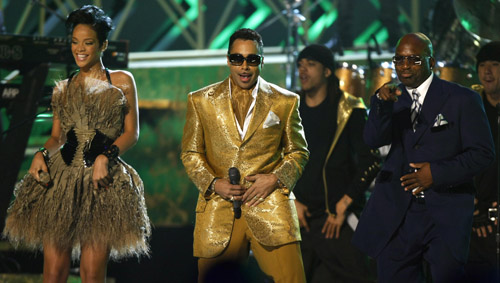 PHOTOS: BECK & WINTER / GETTY IMAGES
Oh-wee-oh-wee-oh! Morris Day and the Time took us all back to a time, before my time lol. But in my household, not knowing who Morris Day and the Time are is a crime. Okay that rhymed (very corny I might add) but it wasn't intentional, I promise! Lol, anyhow, the band from the 80s shared the stage with Rihanna and performed a medley including their hit, "Jungle Love," and Rihanna's hit, "Umbrella." The performance wrapped with "Please Don't Stop the Music." One of the best performances of the night! A great way to kick-off the show.
Be the first to receive breaking news alerts and more stories like this by subscribing to our mailing list.