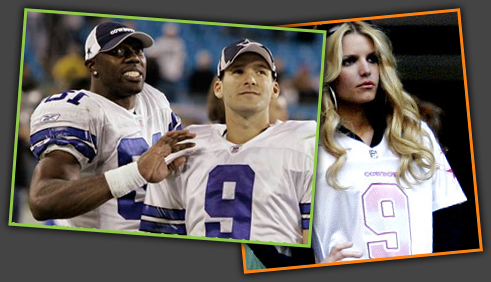 Dallas Cowboys wide receiver Terrell Owens says he was only joking when he blamed quarterback Tony Romo's lousy performance last Sunday on the presence of his new girlfriend, singer Jessica Simpson.
"I tried to get [Romo] to call her so I can explain to her that she doesn't really know me and I can be funny," Owens told The Dallas Morning News yesterday. "It's not a big deal. I will try to rectify the situation between her and I."
T.O. made a comment after the game targeting the Simpson after Dallas' 10-6 loss to Philadelphia. Romo threw three interceptions as the Cowboys failed to score a touchdown. Jessica attended the game sporting a Tony Romo jersey with a pink #9. Reports say the last time Romo played so poorly, his then-girlfriend, singer Carrie Underwood, was in the stands.
"Right now, Jessica Simpson is not a fan favorite in this locker room," Owens initially said. "I think with everything that happened, and obviously the way Tony played … I think a lot of people feel like she's kind of taken his focus away." … "I understand how everybody was looking at Jessica Simpson as a distraction, and that's definitely not how I saw it," Owens said. "[Romo] had a bad game. I don't think she had anything to do with it."
I don't think she (or Carrie Underwood) had anything to do with it either. I think Tony Romo just gets stupid nervous when his girlfriends are in the stands. Most guys play BETTER when their other half is watching them. What's up with this guy?? Lol. Anyhow, I don't think J.S. took what he said to heart anyhow. We all know how slow she can be =) My advice to Tony? Keep your girlfriend's at home! With new HDTV and surround sound technologies, it's just like being at the game. Really, it is!
UPDATE: Aww man, I just found this site called Ruin Romo, where you print out a cut-out of Jessia Simpson and put it on a popsicle stick or something. Peep the link for more details. That's cold!!
Be the first to receive breaking news alerts and more stories like this by subscribing to our mailing list.