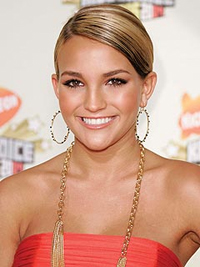 PHOTO: GOFF / INF
No, this is NOT a rumor! I repeat, this is NOT A RUMOR! Britney Spears's 16-year-old sister Jamie Lynn Spears is indeed pregnant. Sad, but 100% true. Nickelodeon, which carries her TV show Zoey 101, said in a statement:
We respect Jamie Lynn's decision to take responsibility in this sensitive and personal situation. We know this is a very difficult time for her and her family, and our primary concern right now is for Jamie Lynn's well being.
Spears and her mother confirmed the pregnancy to OK! magazine, saying she was 12 weeks along and the father is Jamie Lynn's longtime boyfriend Casey Aldridge. Aldridge's mother confirmed it to TMZ. For more on this, check out PEOPLE!
It's sad, but I can't say that I'm 100% surprised about this. It's a little more shocking because she's in the limelight, unlike most teenage mothers. I can't even count with my 2 hands and 2 feet the number of girls in my school who are already pregnant, or have had their babies. Do girls really think that's cute??
Oh yeah, her boyfriend is 19 years old! Isn't that illegal, or something??
CLICK HERE TO TAKE A SHORT SURVEY REGARDING JAMIE LYNN SPEARS' PREGNANCY!
Be the first to receive breaking news alerts and more stories like this by subscribing to our mailing list.