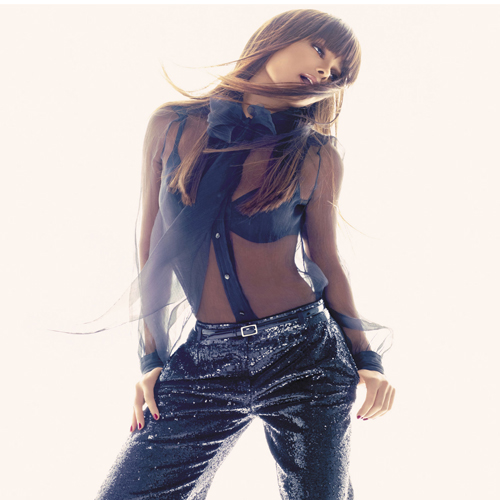 Janet Jackson – "Feedback"
[audio:feedback.mp3]
Let me tell YOU…..R&B is O-U-T! Sorry to say but this is fact. We are slowly emerging into 2008, get with the times. I like to spectate a lot and in my observation I learned that young adults (roughly 18-35) generally do not enjoy R&B or "slow music" but instead leaning towards dance-pop, electro, house, alternative, etc. or just "fast-pace music." This group of persons (including me) may consist of your average club/party goers but also include people who work out, drive, dance in the mirror — I'm sure you get my point. I do not believe anything can be just R&B anymore, this is apparent.
In objection to Janet Jackson's "change": I see none. Jackson has always been pop and edgy, so this is no surprise: THIS is Miss Jackson.
Artists do occasionally switch up their styles to accommodate and it is inevitable, I'm afraid. But really, I want to see the same people-crying-R&B-Janet's receipts for 20 Y.O. or HELL any female R&B artist's album lately … Thank you. Janet is back and now it's all or nothing!
"My swag is serious something heavy like a first-day period" – it doesn't get more serious than that, people! Now dance dammit!
Regardless of how hard urban radio tries to avoid this, they cannot. As I speak this shit is blowing up slowly and people are going crazy.
JANET JACKSON TO RELEASE "FEEDBACK" – DEBUT SINGLE AT ISLAND DEF JAM MUSIC GROUP, IMPACTS JANUARY 7thLEAD TRACK FROM DISCIPLINE – IDJ DEBUT ALBUM, SET FOR FEBRUARY 26th RELEASE"Feedback" produced by Rodney Jerkins – other producers on new album include Jermaine Dupri, Ne-Yo, Stargate, Tricky Stewart, and The-Dream.

Janet Jackson currently starring in Tyler Perry's Why Did I Get Married? , #1 box office smash(December 13, 2007 – New York, NY) /PRNewswire/International megastar Janet Jackson, who has sold over 100 million albums worldwide and is the newest signing to the Island Def Jam Music Group, has completed her first new single for the label with hitmaking producer Rodney Jerkins. "Feedback" will impact across-the-board at all radio formats on January 7th.

DISCIPLINE, Janet Jackson's new album and the 10th studio album of her career is scheduled to arrive in stores on February 26th. In addition to Rodney Jerkins, the new album brings together an A-list of guest producers, including Jermaine Dupri, Ne-Yo, Stargate, Tricky Stewart, and The-Dream. DISCIPLINE was executive produced by Antonio "L.A." Reid, Chairman, Island Def Jam Music Group.

In a class all by herself, 5-time Grammy Award-winning and Oscar-nominated Janet Jackson is currently starring in Why Did I Get Married?, the smash hit movie by Tyler Perry, which opened #1 at the box office. This is the third motion picture of Janet's career, and her third to open at #1, following the success of Nutty Professor II: The Klumps (2000), and her leading title role in John Singleton's Poetic Justice (1993) – source
Be the first to receive breaking news alerts and more stories like this by subscribing to our mailing list.