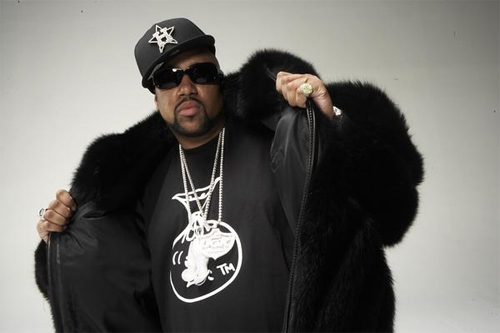 Another tragic loss hit the entertainment industry today when UGK member Pimp C was found dead in an upscale LA apartment. He was 33 years old. Here's a statement released from Jive Records:
It is with great sadness that Jive Records announces the passing of Chad "Pimp C" Butler, a member of the celebrated rap duo UGK (Underground Kingz). Jive Records' President and CEO Barry Weiss states: "We mourn the unexpected loss of Chad. He was truly a thoughtful and kind-hearted person. He will be remembered for his talent and profound influence as a pioneer in bringing southern rap to the forefront. He will be missed and our prayers remain with his family and Bun B. I've known Chad since he was 18, and we loved him dearly and he was a cherished member of the Jive family."

Born in Port Arthur, Texas, Butler's father was a trumpet player who played professionally with Solomon Burke. Outside of his father, the 33-year old rapper's influences varied, ranging from Bobby Bland, Jimmy McGriff, the 1960's Motown artists to Run DMC. Butler met his inseparable partner Bernard "Bun B" Freeman in high school where they formed UGK. In 1992, the duo signed to Jive Records and went on release a total of eight albums for the label. They earned their highest achievement earlier this year when their most recent album, UGK (Underground Kingz), debuted in the number one position on the album pop chart. According to the New York Times, UGK "helped inspire a generation of Southern hip-hop stars, from Outkast to Lil Wayne."

Bun B is not available for comment at this time.
To a mainstream audience, Pimp C was best known for UGK's cameo on the Jay-Z hit "Big Pimpin'," and for "Free Pimp C" T-shirts and shout-outs, ubiquitous in rap several years ago while he was jailed on gun charges. On Tuesday, his MySpace page had been changed to read: "C the Pimp is FREE at last."
Born Chad Butler, Pimp C was found dead in a room at the Mondrian hotel, a longtime music industry hangout not far from the House of Blues on Sunset Strip, where he had performed on Saturday night alongside rap veteran Too $hort. Capt. Ed Winter of the Los Angeles County coroner's office said Butler had apparently died while in bed in his hotel room.
"At this time there's no signs of foul play," Winter said. "It appears to be possibly natural, but pending autopsy and toxicology we can't say the cause." Manager Rick Martin identified Butler and his death was announced by publicist Nancy Byron.
"This morning saw the loss of a man that was not only a client, but a very dear friend at a time when he had the most to live for," Martin said in a statement. "He was my best friend and I will always love him."
Though they never enjoyed massive pop chart success, UGK's early CDs are considered landmarks for the then-burgeoning Texas hip-hop scene, which also featured the Geto Boys. Signed to a deal with Jive Records, they released "Too Hard to Swallow" in 1992, "Super Tight" two years later, and "Ridin' Dirty" in 1996, considered a rap classic. Over laid-back beats, they laid out incisive details that remain Southern rap mainstays: descriptions of sex and conspicuous consumption, wood-grain steering wheels and triple-beam scales used to weigh drugs.
The duo's career was derailed when Pimp C was jailed for three years in 2002 on gun charges. But he got as much exposure as ever, as the "Free Pimp C" slogan spread. An unauthorized album of Pimp C's freestyle rhymes was released while he was in prison. When he and Bun B finally put out an album this year, they felt such a need to re-establish themselves they titled their album "Underground Kingz," as if to underscore a new start.
Critics praised the CD, which included the hit "International Player's Anthem (I Choose You)," featuring OutKast. Pimp C's verse riffs on high-class women and cars: "I'm pullin' Bentleys off the lot. Smashed up the gray one, bought me a red. Everytime we hit the parking lot we turn heads," he raps. Barry Weiss, CEO of Jive, said in a statement: "We mourn the unexpected loss of Chad. He was truly a thoughtful and kindhearted person. He will be remembered for his talent and profound influence as a pioneer in bringing southern rap to the forefront."
Butler, who grew up in Port Arthur, Texas, came from a musical lineage. His father was a professional trumpet player, and the rapper studied classical music in high school. He even received a Division I rating on a tenor solo at a University Interscholastic League choir competition. "That's how I came up listening to everything," he told The Associated Press in a 2005 interview. "Music don't have no color or no face. It's a universal language. I think being exposed to all that kind of stuff influences the way I make records."
Pimp C is survived by a wife and three children.
Be the first to receive breaking news alerts and more stories like this by subscribing to our mailing list.