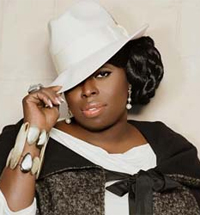 I'm not sure what home boy did, but he has Ms Angie Stone pissed OFF! Just to refresh your memory, Angie spoke with Essence Magazine a couple of months ago about her past relationship with D'Angelo, and the state of their "relationship" to this day. At the time of that particular interview, she seemed pretty cool and had gotten over it. But in a recent interview  with HHNLIVE.COM, it appears as though some things have changed. Same situation, different story. Peep the quote below:
Ain't nothin' happen with us. I never really say nothin' negative about him, but he's on my shit list right now … Of course [I spoke with him after the accident]. I have a son with him, so I had to speak to him. I'm very upset with him these days. I usually uphold him and try to keep him in the best light possible. I'm really not feeling him right now and he really needs to get his shit together.
Damn, homie! Somebody's pissed… LOL.
Be the first to receive breaking news alerts and more stories like this by subscribing to our mailing list.