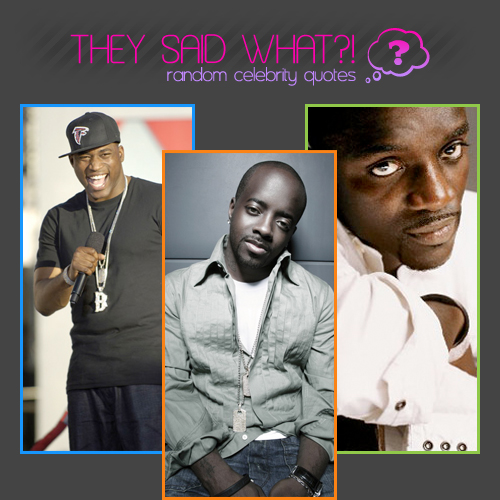 JERMAINE DUPRI ON JUSTIN TIMBERLAKE »
I think Justin Timberlake is a talented performer. But he's very ordinary-looking. He could be any skinny white kid from the suburbs of Orlando. You could go to the mall and find another Justin. He doesn't make his style interesting even when he's onstage. To me, he just doesn't look like a star.
DAVID BANNER ON T.I.'S BODYGUARD (YOU KNOW … THE ONE WHO SNITCHED, LOL) »
Tip was feeding this man's family. We don't do it like that, dog. We don't talk to them boys. However it went down, we sit down [and do the jail time,] where I'm from. Dude, you don't tell it. You hope the people you holding down is man enough to hold your people down. [The bodyguard] wasn't a convicted felon, my dude. He could have held [Tip] down. We gotta start making the environment in our neighborhoods not conducive to snitching. How I'm doing this song, I'mma make it uncomfortable for snitches.
AKON GIVES HIS TWO CENTS ON THE T.I. SITUATION AS WELL…
It's obvious he was set up. But sometimes when you're in a position of that stature and you're that big … you just don't allow that energy around you. You have to have people around you to let you know or avoid that energy. Even if he was a (gun) collector, naturally, you get a license to collect. That's just common sense. … At that stage where he's at, he don't need to protect himself. You hire legitimate law enforcement, or you hire people who are licensed to carry (guns). Surround them around you and you'll be safe.
Be the first to receive breaking news alerts and more stories like this by subscribing to our mailing list.