• GROUP SPOTLIGHT: FUN*DMENTAL •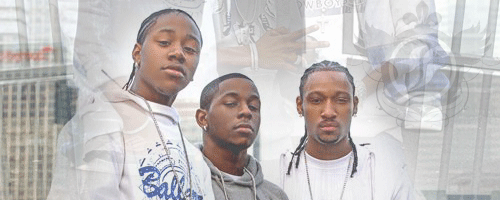 I have been following this "Fundmental" group since about late 2006 so it is no surprise that United Kingdom's very own break-out R&B act FDM (from left to right: Baby-V, Jermaine, & Kyle) has scored a major recording deal with Geffen Records earlier this Summer. The boys (now collectively known as FDM) are in the studio culminating the finishing touches on their new highly anticipated album, Backstage Pass, as we speak! Their sound is very Uptempo and "flashy"; the arrangement of harmonies are so stellar it is enticing! FDM fuses a New Age sound of Contemporary, Pop, and R&B — they are the future! They have already posted some recent material from the album Backstage Pass on their MySpace.
• PRODUCER'S SPOTLIGHT: NATE 'DANJAHANDZ' HILLS •
I believe I previously spotlighted this guy and stated that he was going to be BIG! Declared commonly as "Timbaland's protégé" Nate 'Danjahandz' Hills (or Danja for short) is also the prophet of our time already scoring a major solo producing for Britney Spears, Madonna, and Missy Elliott's new project just to name few. I really love and respect Timbaland but he really has nothing on this young man, who has mastered his craft studying piano and percussion since his pre-teens. Timbaland does reinvent his work every so often, I will give him that, but it is usually redundant with the same kick drum. I heard Beyoncé will be collaborating with Timbaland on her new project – WRONG BEYONCÉ – get Danja (he is the future) and Timbaland will not be hot anymore when your album releases.
• BREAKING NEW ARTIST SPOTLIGHT: KERI HILSON •
Hailing from Atlanta, Georgia and apart of super team the THE CLUTCH Keri Hilson is one of those writer-turned-singer types already prepping for her debut effort In A Perfect World slated to release under Zone 4/Mosley Music Group/Interscope later this year. Hilson is most noted for her writing contributions to Britney Spears' "Gimme More", Omarion's "Ice Box" and Luda and Mary's "Runaway Love" just to name a few. I really am very proud of Keri and wish her nothing but a continuity of success.
Be the first to receive breaking news alerts and more stories like this by subscribing to our mailing list.