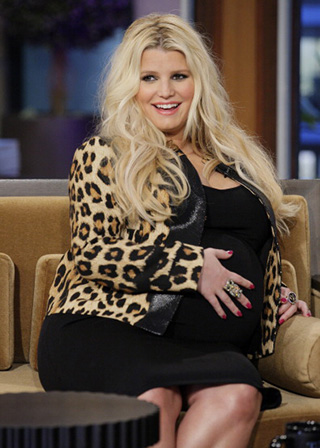 Singer, fashion designer and aspiring professional baby maker Jessica Simpson is reportedly having another baby just seven months after giving birth to her first baby.
According to this week's Us Weekly cover story:
OMG! SHE'S PREGNANT AGAIN
One close source told Us, "It definitely wasn't planned. But yes, Jessica is pregnant again … She really is overjoyed!"
If true, this will be baby number two for 32-year-old Simpson and her 33-year-old fiance Eric Johnson, a former NFL player.
The couple — who can't find the time to get married, but apparently have plenty of time to make babies — welcomed their first child, daughter Maxwell, on May 1st of this year following Simpson's highly publicized (and long as hell) pregnancy.
Fueling the pregnancy rumors, Jessica was spotted at LAX airport Thursday (Nov 29) wearing a loose fitting top with her 7-month-old daughter in her arms … looking like she has "something" to hide. And that "something" is probably a burgeoning baby bump. (See below)
Published