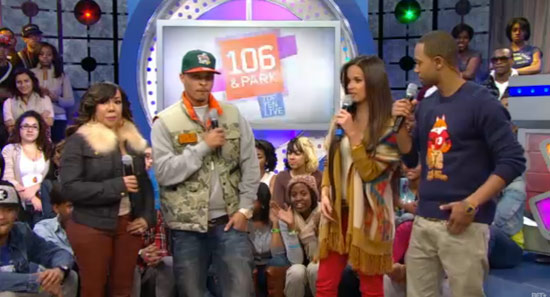 T.I. and Tiny paid a visit to 106th & Park yesterday evening, and during their stop, Hip-Hop's favorite couple reflected on the life of Don Cornelius and the impact he had on African Americans.
"For me, it was about him creating a platform for us to be able to see ourselves. Every Saturday morning after cartoons went off, I was waiting and hoping Run-DMC or somebody was on there. If not for him, we wouldn't have had that. And not just my generation, but generations before me." Tip said.
Tiny recalled her first time ever being on the show was with her group Xscape.
"When I first started out, we were on 'Soul Train' and it was a great experience. It was the first time I realized that they lip-sync, so it was something different, but I loved it. He paved the way for a lot of us to make it and be seen."
The couple also discussed rumors regarding them having another child.
"Ya'll know I can't give it away." Tiny told Rocsi….with T.I. chiming in, "The television channel said yal are gonna have to watch the TV Show"
Check out the footage below:
Published