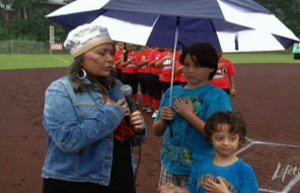 Roseanne Barr's 1990 rendition of the "Star Spangled Banner" has gone down in history as one of the worst performances of the U.S. National Anthem … EVER!
Like seriously, it was so bad … that right after, she received numerous death threats, was called a "disgrace" by then President George Bush Sr, and ratings for her hit sitcom "Roseanne" fell.
And now, 21 years later, as she's currently promoting her new Lifetime show "Roseanne's Nuts," she's trying her hand at singing the national anthem again, this time for the a local little league girls' softball team. But why?
"The reason she's doing it again is simple," a friend of the comedian tells Rob Shuter of HuffPo Celebrity. "She's back on TV. Roseanne wants this show to be a huge hit and is willing to do whatever it takes."
Watch her sing the "Star Spangled Banner" in 2011 below:
And for sh*ts and giggles, here's her performance from 1990:
Published