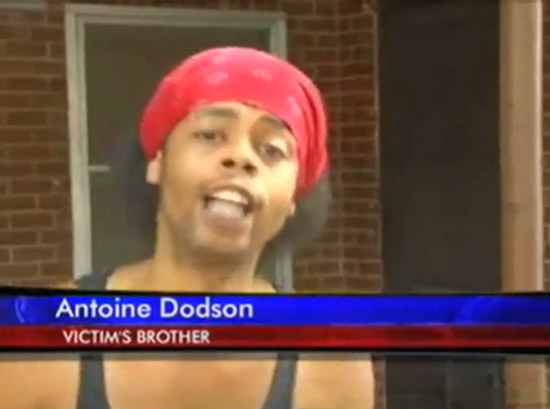 The video on YouTube has gotten nearly 12 million views and now a group of YouTubers (and the Dodson family) have another reason to celebrate!
Back in July, the YouTube sensations known as "The Gregory Brothers" saw a viral video taken from a news piece about a brother and sister named Antoine and Kelly Dodson. Apparently, some random guy had broken into their home in the projects (via a bedroom window) and tried to rape Kelly. Fortunately for Kelly however, her brother Antoine was nearby and was able to successfully fend off the attacker. The next day, their story made local news and people all over the world were ROTFL at the way the Dodsons conducted the interview, which in turn, inspired The Gregory Brothers to create a parody video/song about it on YouTube
Now, weeks later, that particular song has debuted on the Billboard Hot 100 singles charts at No. 89 with over 30,000 downloads online, mostly via iTunes. And what's even better is that both Antoine AND Kelly are listed on the track's credits as songwriters, meaning they get a cut of the song's earnings!
Peep the fully story (and the song if you haven't heard it yet) below:
A rape attempt is rarely the inspiration behind a hit pop song. In fact, Gregory Brothers' drummer Michael Gregory, who created "Bed Intruder Song" — a darkly comical remix of a local TV news interview with Antoine Dodson about the attempted rape of his sister Kelly — admits that he questioned the appropriateness of turning a "bad situation" into a musical parody. But then he realized "it's taking a terrible situation and making at least something positive out of it."Still, the Brooklyn-based group never imagined how "positive" their inventiveness would be for themselves or for the Dodson family. Not only has the song's YouTube clip been viewed nearly 14 million times, but "Bed Intruder Song" debuts this week on the Billboard Hot 100 at No. 89, almost exclusively from download sales. It also debuts on Hot Digital Songs at No. 49 with 30,000 downloads, according to Nielsen SoundScan. Furthermore, Antoine and Kelly Dodson are listed as co-writers of the song, and their family will receive 50% of the track's revenue.

"Why I think people are latching onto it is frankly quite similar to why they latch onto a classic ballad or pop song that tops the charts — because there's real emotion behind it that people identify with, even if, in this case, it was for unusual reasons," says keyboardist Evan Gregory. "Although this is an unusual path to take to reach the Billboard Hot 100, it is a path nonetheless. We're thrilled."

"Bed Intruder Song" came about after a news clip surfaced of Dodson, a Huntsville, Ala. native, charismatically telling a reporter in rap-like fashion, "He's climbing in your windows, he's snatching your people up, trying to rape 'em, so y'all need to hide your kids, hide your wife and hide your husband, 'cause they're raping everybody out here." Dodson also warns the perpetrator who escaped: "We got your T-shirt, you done left your fingerprints, you are so dumb . . . We're looking for you. We're gonna find you."

Source: Billboard
Published