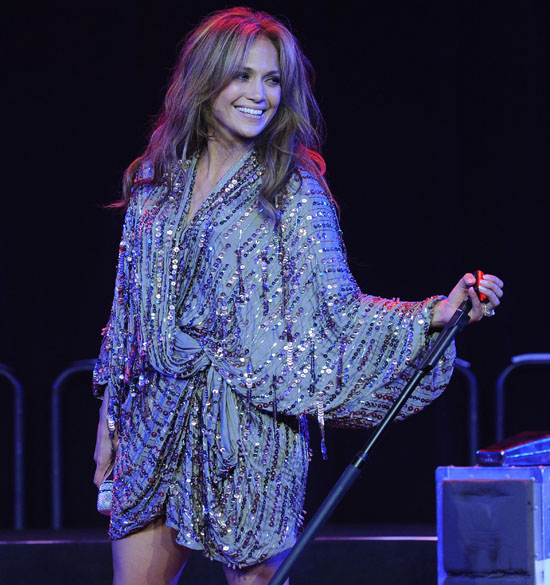 Even though international pop star Jennifer Lopez is more known for her backside than her political views, she has found herself in a tug-of-war between politics and money.
She was scheduled to perform at the Cratos Premium Hotel and Casino in Northern Cyprus on July 24 but canceled the show when her people realized her performance would suggest she had something to say about an ongoing feud in the country beginning when Turkey invaded it in the 1970s. Performing a show, which she seldom has done since her 2007 tour with hubby Marc Anthony, in a Turkish-owned venue would put Jenny on their side of the conflict.
One of Jenny's reps released a statement calling to cancel the show due to "sensitivity to the political realities of the region," but Cratos owner Murat Bozogluof is not hearing it. He's even giving her time to reconsider her decision:
"The contract has not been terminated. If she does not show up for the concert, we will begin a procedure in the courts to claim $35-40 million dollars in damages…The cancellation….is not covered by any clause in the contract she signed with us."
Ouch!
Bozogluof said J.Lo's politically driven decision is hurting the resort's image and he is prepared with lawyers to take her to court.
There is confusion about if information she got from the American Hellenic Educational Progressive Association (AHEPA) led her to believe there was a war going on, which may have caused her not to perform. The AHEPA said her appearance would help legitimize the Turkish occupation. Members campaigned online to get her to cancel the show. Now, Jenny is denying ever knowing about the statement her rep made, saying on her site:
"This whole situation makes me so sad. The statement that was issued by my representatives was done without my knowledge or consent. It is my personal policy not to comment on political issues between countries. I love my fans all over the world. I want to sincerely apologize if anyone was offended in any way. Again, I am truly sorry."
Published