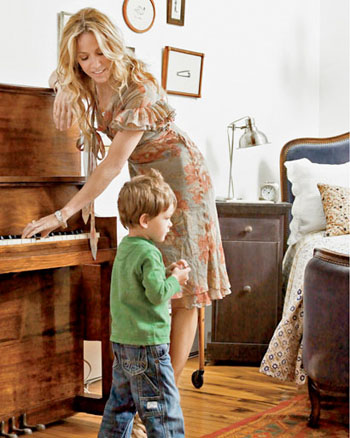 Sheryl Crow, mother to two boys (3-year-old Wyatt Steven & 7-week-old Levi James), says that being a parent is the best thing that ever happened to her, even if she does have to give up her antiques. Speaking on her first son Wyatt in the July 2010 issue of ELLE, Crow said:
"He changed my life completely. I've really put roots down with him. His happiness is my priority. One thing I've learned about children and antiques is that you just have to let go. …I try to re-create and reuse everything, no matter how tattered. I think that's definitely part of my love for acquiring and appreciating other people's cast-off stuff. If I can reuse something or give it a new life, that's definitely better than throwing it out."
Crow also says that even though she's not the greatest cook, she loves to entertain guests and have friends over.
When the door buzzer rings and in strides Crow's good friend (and star of Law & Order: Special Victims Unit) Mariska Hargitay with her young son, August, there's an effusion of hugs and laughter and introductions before Crow ushers them down to the long farmhouse table in the kitchen, which has been laid out with an impromptu lunch. "I'm not much of a cook," Crow admits, "but I love to entertain. If I'm in town with my band and we're doing gigs, I'll always have people over to my house afterward. If I'm here on my own, I'll have girlfriends come over and we'll walk to one of the restaurants in the neighborhood." A glimpse inside her fridge reveals a plentiful supply of champagne as well as a profusion of Gatorade and fresh fruit.

Though Crow's primary residence is now her Nashville farm (pointing at Wyatt, she says, "Look at him, he's like a Labrador— he needs to be outside, running around"), this loft is still terra firma for her. "This was the first place I ever bought," she says, "and it has always been special for me. I loved the years when I lived here fulltime. Everybody in this building either grew up here or raised their kids here, and you can just tell that this is a place that has held a lot of life and a lot of good memories." She pauses to call Wyatt into the kitchen as she distributes bowls of pasta and salad to her guests. "I love being on the road. But having a home, both as a place and a state of being, is paramount."
Published