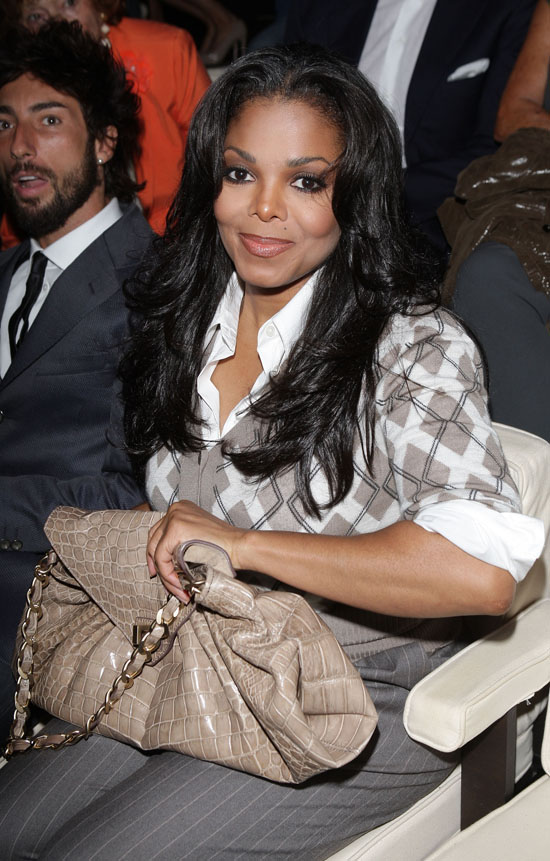 Janet Jackson hit up the Giorgio Armani Fashion Show for their Spring/Summer 2010 line Thursday (Sep 24) in Milan, Italy. She's currently over there for Milan Womenswear Fashion Week.
MTV has been airing her TV special, "The Making of Janet Jackson's VMA Tribute Performance," for about a week or so. The show takes viewers behind the scenes of her big tribute performance to Michael Jackson at the VMAs. Filled with a lot of emotion and still coping with the loss of her brother, Jackson says that she knows he was watching the performance and she hopes he enjoyed it.
"I know he was watching. I know he was looking down," Jackson said of the performance. "I hope he enjoyed it." The half-hour special began with day one of training in a Burbank, California, studio, introducing the celebrated choreographers who would accompany Jackson: Tyce Diorio, Tina Landon, Jeri Slaughter, Travis Payne, Brian Friedman, Cris Judd, Dave Scott, Mia Michaels, Laurie Ann Gibson and Wade Robson.
Many of the choreographers had worked with Janet or Michael during their careers and said they owed much to the revolutionary dancer and singer. "Being a part of this show is making you proud to be a dancer," Judd said. Janet saw the performance as the perfect way for dancers to honor one of their own. "You see tributes. And you see the stars paying homage … this time around because he represented dance for dancers. To be able to pay homage to him and choreographers, that was something so special to me," she said. Day two of rehearsals found the sore choreographers ("This is why I choreograph. My back hurts," Scott moaned) being fitted for their Jackson-inspired costumes, including silver-studded shoes specially designed by Christian Louboutin. "I like what [costume designer Robert Behar] did in homage to my brother, with the different looks he did," Jackson said. "But it's all in black and white."

Jackson and her crew also took a break from their own rehearsal to watch the other dancers who would open the awards show with a medley of classic MJ numbers. The dancers were so able to embody MJ that it was sometimes hard for Janet to control her emotions. "It's like you're seeing all these carbon copies of your brother," Jackson said. "And I was trying not to cry, and I got choked up a few times. It gave me goose bumps. I thought they looked incredible." When Jackson flew to New York and arrived at Radio City Music Hall for a final run-through of the performance, she was once again overcome with emotion. "When I looked on that screen and I saw his face there, well, I started to cry," she said. "I had to walk away. It was very emotional for me, and I was trying not to cry, and I got choked up a few times. [His death is] hard for me to believe still sometimes and accept."

And what was Jackson thinking about as she approached the stage for the big performance? "Missing him. And just to say I love you and thank you. Just to say thank you for giving us the talent you've given us, the love you've given us, the music you've given us. Everything."

SOURCE