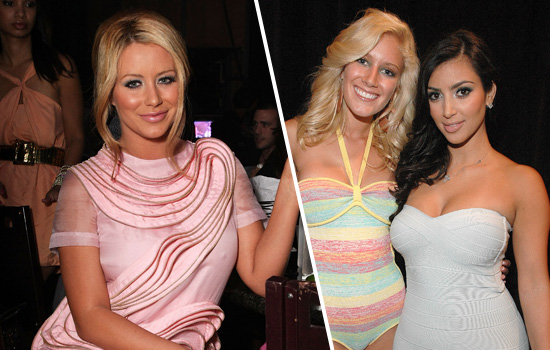 Playboy cover girl Aubrey O'Day says that she's "excited" about Heidi Montag posing for Playboy, despite the fact that Heidi herself and her husband Spencer danced around the subject recently by speaking in hypothetics.
"I'm excited that Heidi will join the long list of Playboy cover girls!" she told MTV News in a statement. "I hope she enjoyed the shoot and feels as liberated as I did! Good luck!"
Meanwhile, Kim Kardashian offered the MTV reality star advice and helped her make the decision to pose for the magazine.
"Actually, I was in Mexico and I got a call from Heidi saying, 'Call me right now,'" Kardashian told MTV News on Tuesday (June 16). "So I called her and she had said to me, 'What do you think? What's your opinion on if I were to do Playboy?'"
Kardashian told her to "go for it."

"I think that now's the time," she said. "I think it's a very classy magazine. It's artsy. I talked her through the whole process and helped her make up her mind."

Of course, Kardashian, who is currently the spokeswoman for Nivea's "Good-bye Cellulite, Hello Bikini" challenge, wasn't the only person who helped Heidi make up her mind. Spencer also had a hand in the decision-making process. "Her and Spencer talked it over," Kardashian said. "They felt like it was the right thing for her to do and I'm anxious to see it."

Kardashian is confident that Heidi had as good an experience as she did when she posed for the magazine.

"It was a really fun process for me," she said, adding that getting asked to be on the cover is an "honor." "I'm excited to see what the pictures will turn out to be."
SOURCES: MTV / MTV