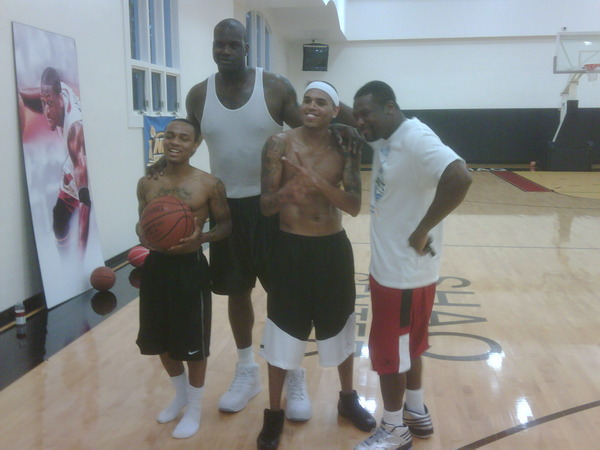 After hooping it up with Shaquille O'Neal, Chris Tucker and Bow Wow at Shaq's crib, Chris and Bow Wow hit up the bowling alley where he announced a new album, a new single, gave a shout-out to his fans and let everyone know that he's "not a monster" via Bow Wow's Justin.tv page.
"I just wanna say what up 'cause I ain't been out there in a minute, but a new album's gonna be coming soon, called Graffiti… I'm about to drop a single this summer for y'all, we ain't going nowhere… Everybody out there that's haters, they just been haters. All my real fans, I love y'all … I ain't a monster."
This is very true Mr. Brown, but we're not so sure if people want to hear what you have to say, or see you out promoting an album for that matter, this soon. Just give it some time. Continue reading for the video.
Meanwhile, there's a new story floating around saying that Chris Brown is supposedly working on a country-inspired song called "Trapped In A Dream" for that new Graffiti album he was talking about. If this song makes the final cut, he'll definitely be holding true to the album's title since Graffiti is supposed to be random and let's face it, a country song from Chris Brown will be just that … RANDOM!
Chris' producer Robert Allen said: "Maybe we'll see an appearance from country star Carrie Underwood or someone like that. It's that kind of song.

"It's just feeling like you don't want that dream to go away. Everybody has a dream and you're in it, but you wake up and you're like, 'Oh, my God.' You feel like you're still in that dream."

Chris has submerged himself in work since he was accused of punching, hitting and choking Rihanna until she was unconscious in his rented Lamborghini on February 8. Robert explained to E!: "We just focus on music. We're just happy-go-lucky people who just get into the studio as much as possible."

SOURCE