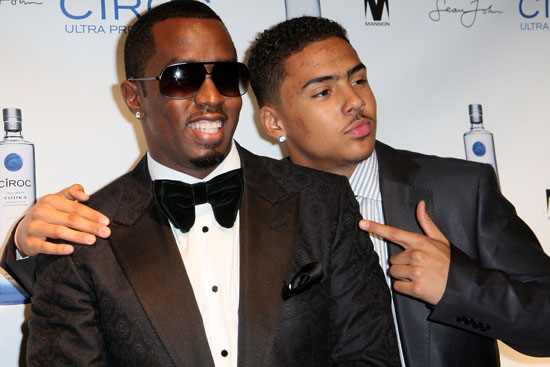 It's no secret that Quincy Brown, Kim Porter's oldest son, doesn't have a really good relationship with his biological father, Albert "Al B Sure" Brown. And the letter below (written by Quincy) cites incidents where his father was missing in his life, but he goes on to thank Diddy for loving him unconditionally as a father should and molding him into the person he is today. We give Mr. Sean John a lot of sh*t for his antics, but one good thing we CAN say about him is that he at least takes care of his kids … all 30 of 'em.
A Letter To My Father

I've been inspired throughout my life by special circumstances and unique experiences. Foremost, I grew up with a family that injected me with unconditional love and enduring confidence. This is my foundation … the family holidays and celebrations with my maternal lineage … supportive smiles in audiences at school programs … guiding hands to complete homework and special projects in the wee hours of the morning.
However, I grew up without my father, an irreplaceable force and influence that was absent in my life. I watched other kids enjoy the embrace of theirs, and I searched for a way to reconcile the meaning of my circumstance.

Despite my pain, I've imagined a life as a good son with my father. Baseball … Playing in School Band … Church … All of the things that he would expect his son to do, I've done. I've stood in front of audiences to receive awards. I heard their applause and praise. But, the accolades have been absent the sound of his clapping hands and encouraging words … his voice that I could distinguish in my sleep. Where has he been?

Now, I reflect on the journey, the pain, the challenges, and the triumphs through this song. I'm reconciled as a man, no longer a boy, in verse. Now, I know that I'm not alone.

Albert Brown, also known as "Al B Sure!" is my biological father, but Sean Combs, also known as "Diddy" has been a father figure in my life for as long as I can remember. Sean Combs is the person whom I look up to and appreciate as a father. He is the one who help mold me into the person I am today and will always try to live up to his expectations. He has always been supportive of me and I will forever love and respect him. As far as my biological father goes, the "spitting image" is all I have taken from him. Throughout my life, I've always wondered about him; Where he was? What was he doing? and most importantly, Was he even thinking about me? The absence of my father has given me a better understanding of what type of man I am going to be. I am grateful for my mom's love, support, guidance, and for her strength.

To those who share my plight, know that you have a great future … a DESTINY. Take the lemons that you are handed and make lemonade. Your journey is in "A Letter To My Father."

– Quincy "iQ" Brown
exclusive for GlobalGrind.com

SOURCE