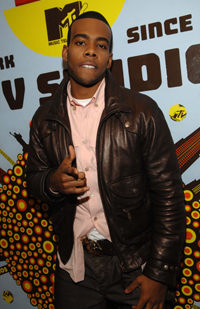 PHOTO: GETTY IMAGES
R&B singer Mario will be one of 12 celebrity performers on ABC's top-rated Dancing with the Stars when it returns in its 6th season premiere March on 17, 2008.
"I've never done ballroom dancing, but I'll be ready. Everywhere I go, I represent my city, Baltimore," he said. "And coming from a place where success stories for youth are few and far between, I see my involvement in Dancing with the Stars as a chance for me to show millions of viewers what hard work and dedication can accomplish. This is the story of my life. When my manager called me to talk me about being on the show, he knew what my first answer was going to be. But then I came to notice that the show gave viewers a chance to get to know the performer behind the costume – and I liked that. I like the fact that I will be carrying the torch for my generation. And, I also like the fact that I will be doing it with such a diverse and accomplished cast of other performers this year. This is definitely a challenge, but I've had challenges all my life. At the end of the day, if you dedicate yourself, there's nothing you can't do. This is just another way for me to express myself, and we're going to be amazing."
Mario's dance partner will be Karina Smirnoff, who has danced in previous seasons with country singer Billy Ray Cyrus and actor Mario Lopez. If you're interested in seeing who else will be participating in the show, follow the link below.
Adam Carolla: radio host, TV host (Man Show) and actor
Crisitian de la Fuente: "Latin heartthrob" and telenovela star
Shannon Elizabeth: actress (American Pie)
Steve Guttenberg: actor (Veronica Mars, Police Academy and Three Men and a Baby)
Penn Jillette: quirky, 6-feet-6-inch magician
Marlee Matlin: actress and Oscar winner (Children of a Lesser God, The West Wing and more)
Priscilla Presley: actress (Dallas and The Naked Gun) and widow of Elvis Presley
Monica Seles: nine-time Grand Slam tennis title holder
Jason Taylor: Miami Dolphins defensive end
Marissa Jaret Winokur: Hairspray stage star and Tony winner
Kristi Yamaguchi: 1992 Olympic figure-skating gold medalist