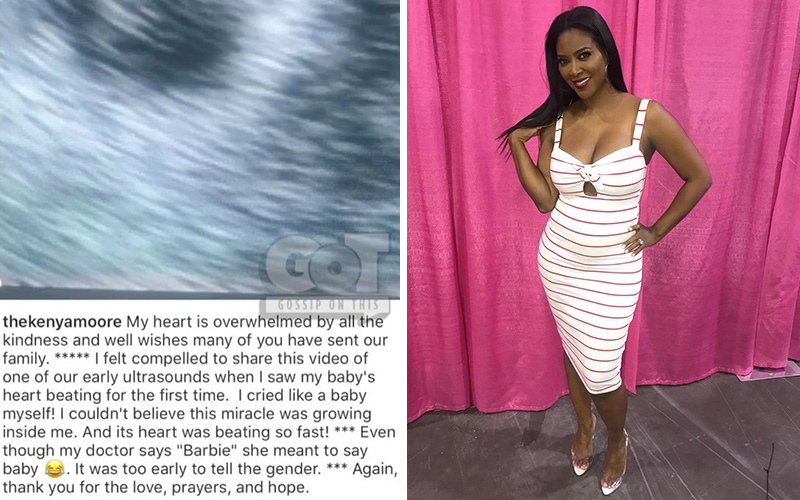 Kenya Moore is desperate for the world to recognize her "pregnancy" as the real deal, so she took to Instagram Monday (Jun. 4) to share a video of her "ultrasound" from a recent doctor's visit.
Amid speculation that the RHOA star—who has reportedly been demoted to "friend of the show" status—is faking her "pregnancy" for a storyline, she first posted a photo showing off a teeny tiny baby bump, and now she's showing off her "ultrasound."
"My heart is overwhelmed by all the kindness and well wishes many of you have sent our family," the 49-year-old possibly expectant mother penned in a lengthy message. "I felt compelled to share this video of one of our early ultrasounds when I saw my baby's heart beating for the first time. I cried like a baby myself! I couldn't believe this miracle growing inside me. And its heart was beating so fast!"
Moore previously "confirmed" that she and her husband Marc Daly are expecting their first child together during the RHOA Season 10 reunion, which was filmed in mid-March and aired on TV in early April. She made it a point to mention that she was NOT using a surrogate. Based on that timeline, she should be anywhere from 12-16 weeks pregnant by now.
Despite her "baby bump" photo and "ultrasound" video, folks are still questioning the legitimacy of Kenya's "pregnancy," but we hope and pray she's not taking this as far as staging a whole ultrasound video, because that's just ridiculous.
Only time will tell whether or not Kenya Moore is really carrying a tiny human in her belly. If she is indeed pregnant, that belly should start poking out any day now.
Be the first to receive breaking news alerts and more stories like this by subscribing to our mailing list.