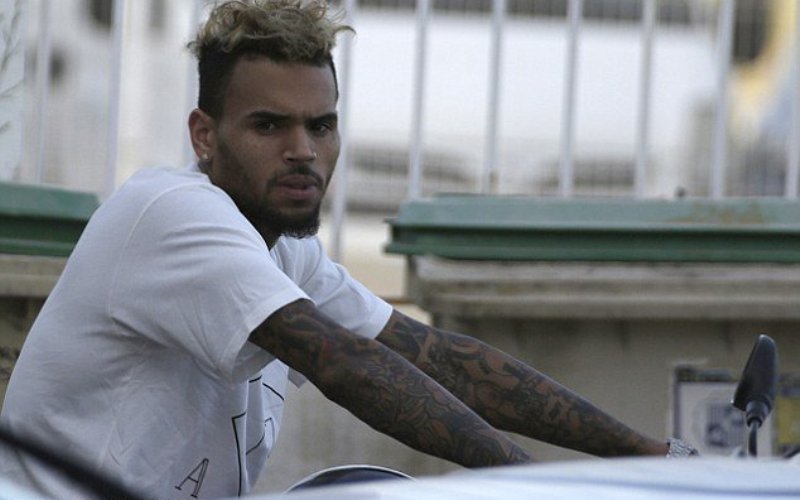 Should we be worried that Chris Brown is gearing up to punch somebody in face like the good ole days of 2009? Well, allegedly he already has, and people close to the singer fear he is walking down another destructive path.
Chris Brown has had a rough few months. His publicist quit after the two had a vulgar fight via text. He allegedly punched his manager of four years repeatedly in the face and neck; the former manger is now suing him. It was also reported that he threatened his tour manager and he's randomly being sued by Suge Knight. On top of all that, Brown made headlines a few weeks ago for allegedly trashing a rented villa with pee and vomit, which he adamantly denies.
Whew, and that's really just the month of June. This list doesn't even include all of Brown's legal and public image troubles since physically assaulting then-girlfriend Rihanna in February 2009. With all of that in mind, friends see Brown slipping into bad habits.
"I don't think he's aware of the downfalls that can come from the things that he does," an anonymous source, who has worked closely with Brown, tells The Post. "He falls back into these moments where he doesn't seem to care about the repercussions. It's almost like a blackout situation."
Though his public image is far from squeaky clean like when he burst on the music scene in 2005, his music continues to sell. In a sense, he may not personally see a need to change.
"Seems like, as long as he keeps coming up with hit records, the public will find a way to forgive him," a disappointed source says. "Chris Brown has to want to do better. There is no publicist on this planet that can tell him what to do. He's been through a lot of them at this point."
BET music editor Iyana Robertson noted, "He's completely permeated today's R&B and pop music scene. So when he says, 'This is who I am. Like it, hate it, love it, it's up to you,' that raw honesty is admirable to his fans."
Could Chris Brown really be headed for trouble or is this just more media hype? Honestly, anything is possible with him. He definitely has anger management issues that I think he struggles to get under control.
However, up until this June, he seemed to be doing well… for his standards at least. Hopefully close friends and family can stop the downward spiral before it's too late. Or, maybe not. You just never know with Chris Brown.
Be the first to receive breaking news alerts and more stories like this by subscribing to our mailing list.