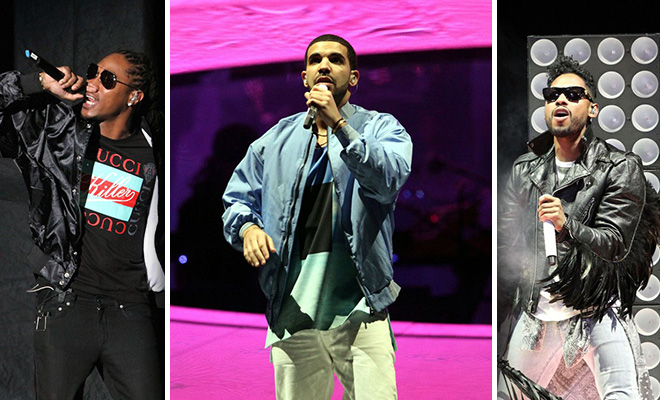 Everyone's favorite frozen waffle-colored singing rapper Drake is on tour with fellow rapper-singer Future, R&B crooner Miguel and his own OVO Sounds artist Party Next Door, and the four of them performed in Atlanta last Thursday night (Nov 7) to a sold out crowd at Philips Arena.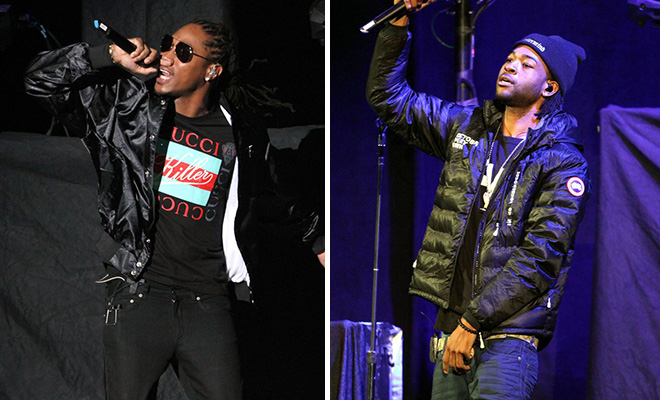 PND opened the show to a sparse crowd (folks were still walking in and making their way to their seats), performing a short, 10-minute set, followed by Atlanta native Future, who took the stage for about 20 minutes and had the whole crowd moving to all of his hits, like "Racks on Racks," "Tony Montana," "Same Damn Time," "Honest," etc. He also brought out fellow ATL rappers Rocko and Young Scooter (who was recently sprung from prison).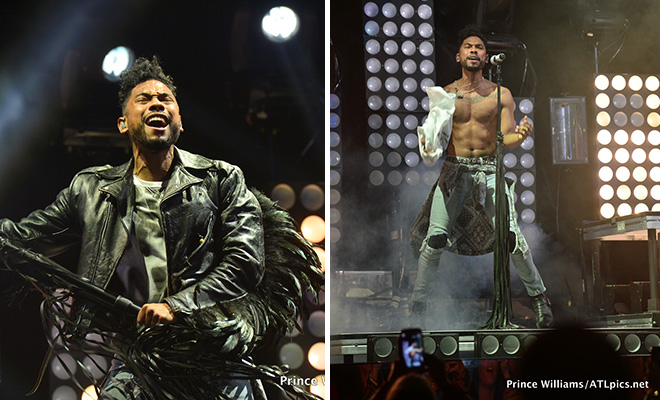 Next up was Miguel, who delivered a 30-minute set, mainly focusing his attention on getting the women in the crowd hot and heavy. He performed his own hits ("All I Want Is You," "Sure Thing," "How Many Drinks?" etc.) and the ones he's been featured in with other artists ("Lotus Flower Bomb," "Power Trip" and "#Beautiful") before closing out with "Adorn."
Then came the man of the hour. The man everyone in the crowd came for. The light-skinned Keith Sweat, aka "Drizzy Drake." When the lights dropped and the curtain lifted revealing Drake's elaborate, but simple, stage set, the crowd of about 20,000 fans went nuts.
After appearing on his brightly colored stage set — featuring two horizontal ring structures (one hanging above the stage, the other below, making for a nice platform/walkway behind the stage, both parallel to each other), a DJ/band pit in the middle and a huge widescreen video panel backdrop that wraps around the entire length of the stage — Drake opened up with "Tuscan Leather," the first song from his new album 'Nothing Was the Same.'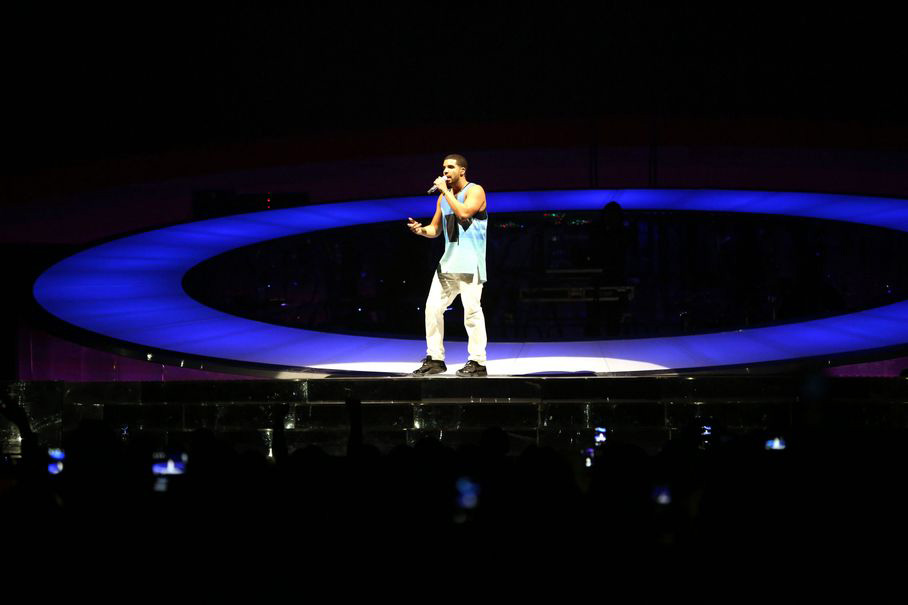 He also performed crowd pleasers like "Headlines" and "Crew Love" (from 2011's 'Take Care') and a few more tracks from his latest album ("Furthest Thing," "Wu-Tang Forever," and "Own It") before getting the crowd turned up with up-tempo numbers, like "Pop That," "No New Friends," "Fuckin Problems," "The Motto," "Versace" and "HYFR."
Jhene Aiko came out in a sexy, see-through dress and sang "Come Thru" and "From Time" alongside Drizzy, slowing things down again, but just for a quick moment, like the eye of the hurricane. Then out came Future for a second round of high energy performances that got the crowd turned up once again.
"I told you Atlanta was gonna be the most turned up city on the motha fuckin' tour," Future proudly said of his city, as he ran through more hits ("Love Me," "Turn Off the Lights," "Same Damn Time," etc.).
After Future left the stage, the DJ played several of Drake's songs back-to-back, reminding every one in the crowd of how many hits this guy has, and he only has like three studio albums to his name. Impressive.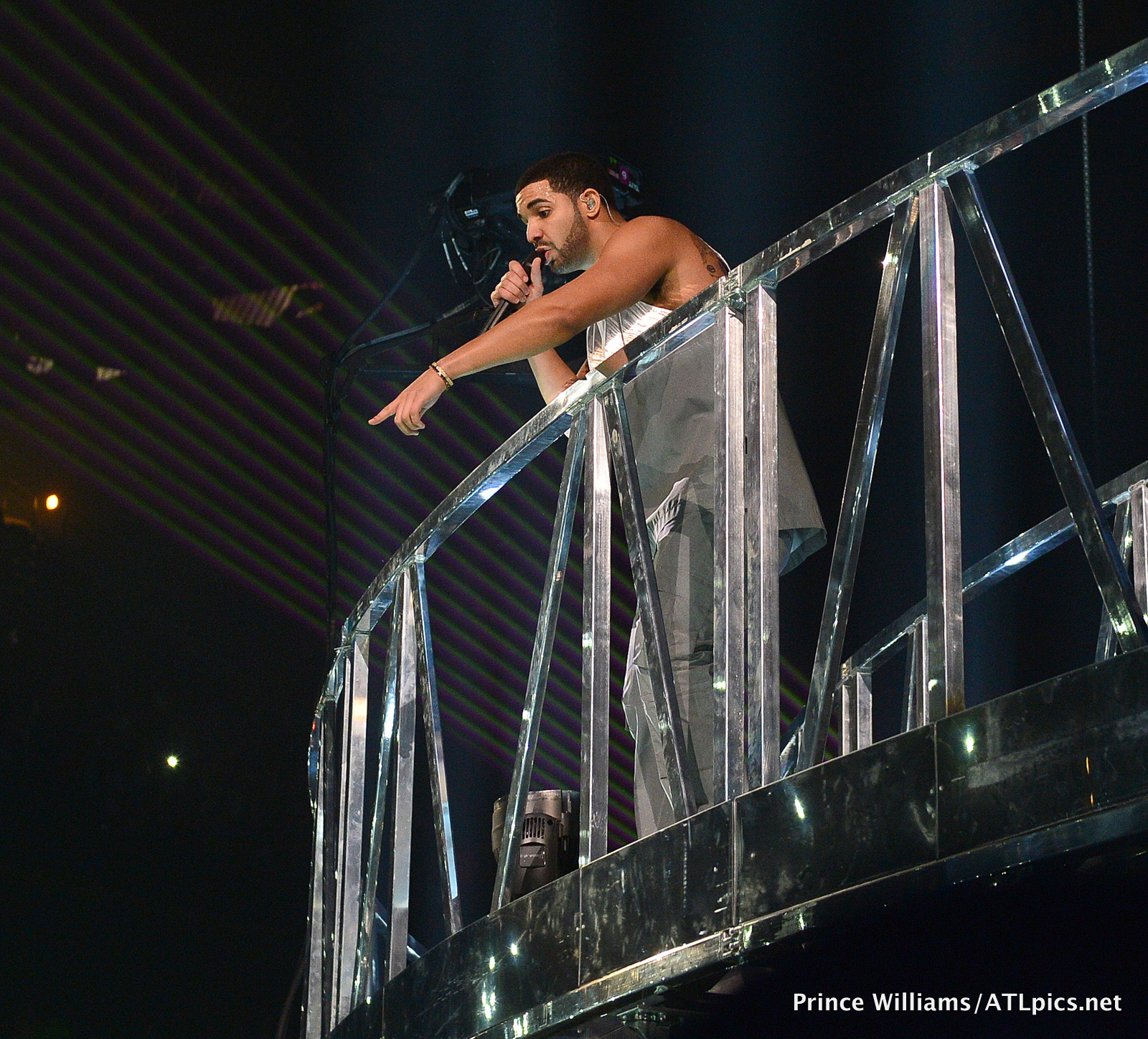 At one point during Drake's set, a huge, circular stage descended from the ceiling and Drake used it to get closer to and shout-out his fans in the back and up top — a nice touch to an already impressive concert that could've gone all night, but after performing "All Me" and "Started from the Bottom," Drake was done for the evening.
The North American leg of Drake's "Would You Like A Tour?" ends on December 18th in Philadelphia before he heads to Europe next Spring for dates in Germany, France, Sweden and the UK.
CHECK OUT THE PHOTOS FROM ATLANTA HERE:
Photos: Access Atlanta, Prince Williams/ATLPics.net
Be the first to receive breaking news alerts and more stories like this by subscribing to our mailing list.