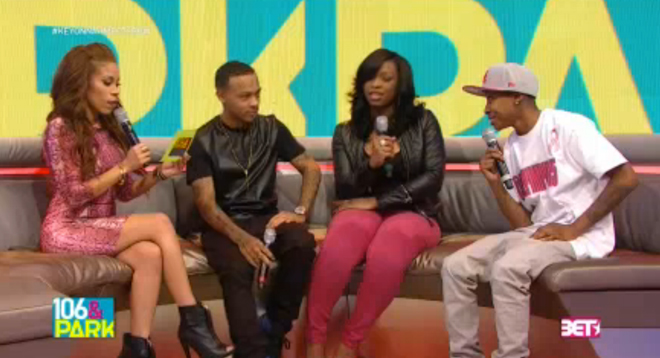 MTV has created a monster. Or a brand-new star, depending on your outlook on reality TV.
Dee Pimpin', a butch lesbian rapper who rocked social media and reality TV fans worldwide when it was revealed on MTV's "Catfish" that she tricked a girl into believing she was dating Bow Wow,is on the fast track to becoming a legitimate celebrity.
Hey, if Kim Kardashian can turn a sex tape with Brandy's brother into a multimillion-dollar empire, why can't Dee Pimpin' use her lamb skin dildo to get her shine on too?
First off, Dee Pimpin' is pulling in some coin by doing club appearances. She's already promoting and booking gigs as we speak.
As Joseline Hernandez of "Love & Hip Hop Atlanta" fame taught us, those club promo appearance can quickly turn into racks on racks on racks. So do ya thing, Dee.
Additionally, she claims record labels and pursuing her now after her appearance on "Catfish".
All these labels looking at me and i dont know which to choose.

— New Tone City ™ (@New_Tone_City) October 17, 2013
But the real coup is Dee's appearance on "106 & Park" with Bow Wow and her "victim" Keyonna. While the interview didn't reveal anything earth-shattering, Dee did get the opportunity to apologize to Bow Wow for borrowing his identity and premiere a clip of her first "music video." Do you know how many new artists would kill for that kind of exposure?
I will so not be mad if Dee Pimpin' gets her own VH1 spinoff. I mean, it couldn't be any worse than Big Ange's show, right?
Be the first to receive breaking news alerts and more stories like this by subscribing to our mailing list.