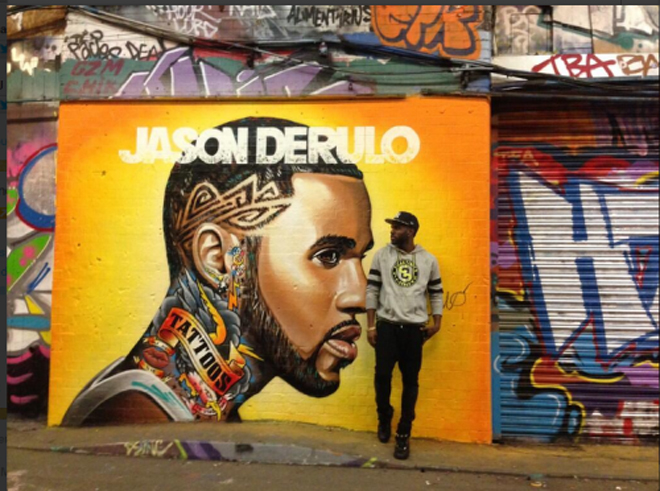 There are so many good reasons to hate Jason Derulo. One, he sings his name on every damn song. Two, he's dating Jordin Sparks. And three, he looks like a character from Shrek.
But with all of that said, Jason is still a human being and he deserves a bare minimum of respect.
Mr. Derulo was not afforded that in the least when he went over to the UK to promote his album and had a mural of his album cover done in graffiti in the Waterloo tunnels of London. For some reason, while Derulo stood there with his handlers, a bad-ass, disgruntled graffiti artist strutted over and marked up the mural and finished it off by drawing a penis at the end.
The only that might've been worse would've been if he'd actually whipped out his own penis and pissed on the mural.
WATCH THIS GRAFFITTI ARTIST LET JASON HAVE IT
Hot damn. Maybe next time Jason should just have a closed set or something? Or hire some security worth a damn?
You know who that crotchety dude wouldn't have done this to? Chris Brown. Jason better take notes.
Be the first to receive breaking news alerts and more stories like this by subscribing to our mailing list.