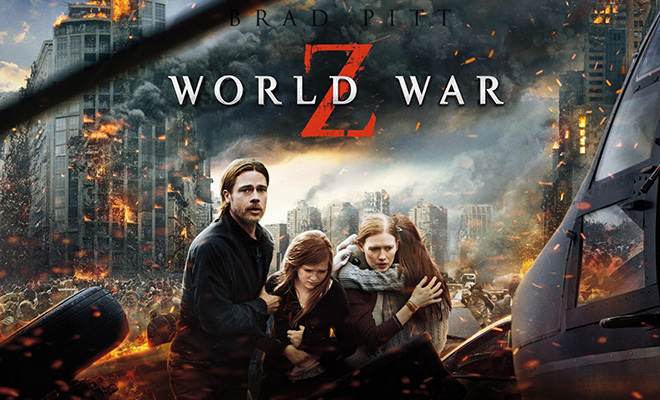 It could probably be said that a few years from now, movies without sequels will be a rarity.
Like seemingly every other movie these days, "Word War Z" may get a followup. Though this isn't exactly breaking news, Brad Pitt has now officially confirmed that plans for an additional installment are underway.
While appearing at the Toronto International Film Festival to promote his newest drama "12 Years a Slave," Pitt sat down with Variety and confirmed that a "WWZ" sequel could very well be on the way.
"We're certainly talking about it, yes. We have so many ideas on the table from the time we spent developing this thing and figuring out how the zombie worlds work. We gotta get the script right first to determine if we go further."
The action flick, which centers on a U.N. worker who fights to keep his family safe during a zombie outbreak, earned $201 million domestically, which would be impressive except for the fact that the film cost a whopping $190 million to make.
That said, the film fared well overseas, taking in $335 million for a total intake of $536 million. For this reason, it's not difficult to imagine why Pitt, who produced "World War Z" under his production company Plan B, and Paramount Pictures would be willing to expand the story into a franchise.
"World War Z" was initially envisioned as a trilogy but production delays and bad press made that seem like a long shot.
Originally set to open in December 2012, the film was pushed back to June 2013 after it went through several re-shoots and the entire ending was re-worked.
Many industry experts predicted that the film was destined to be a flop. For instance, Collider released a story detailing all of the reasons why the film should have never been made in the first place.
At one point during shooting, 85 automatic assault riffles that were set to be used as props in the film were confiscated by a Hungarian anti-terrorism unit, setting production back both time and cost wise.
Much of the blame for the early issues that plagued filming apparently lied with directer Marc Forester, whose only other big budget feature was the disappointingly uneven James Bond installment "Quantum of Solace."
It has been alleged that Forester made the mistake of not having a clear vision of the the look and plot of "World War Z" before shooting began.
Not surprisingly, talk of a sequel re-emerged in June, after the film premiered to the biggest opening weekend in Pitt's career.
The film's unexpected success has a lot to do with it's mixed to favorable reviews and the fact that zombies have had a major place in pop culture over the last few years.
It's no secret that AMC's "The Walking Dead" has had a devoted following or that a variety of films centering on the undead have done well.
In 2012, "Hotel Transylvania" and "Resident Evil" generated $138 and $200 million respectively, while the 2013 romantic comedy "Warm Bodies," about a human girl who falls for a walker, earned an impressive $66 million in the U.S. alone.
Another reason for World War Z's success may stem from it being based on the popular novel by Max Brooks, which already had a fan base in place.
Anyone who saw the film knows it's going to be pretty difficult to come up with a compelling plot for the sequel since the zombie apocalypse was resolved in the first one.
That said, the film does leave out plenty of content from the book, officially titled "World War Z: An Oral History of the Zombie War," that could potentially be used in followups, which should please those who felt that the script strayed too much from the bestseller.
Of course, there's no denying that Pitt played a massive role in World War Z's success. Much of his films, like "Inglorious Basterds, "The Curious Case of Benjamin Button," and "Mr. & Mrs. Smith" have generated a considerable profit.
According to Box Office Mojo, the average gross of a Pitt film is $70 million. Additionally, Pitt made a large effort to promote the film, traveling to various cities for red carpet events and making appearances at many screenings.
Should "World War Z," be spun into a franchise it would mark the second one for Pitt, who starred in two followups to "Ocean's Eleven."
This would be yet another achievement in the Oscar-nominated star's remarkable career. Since his unforgettable film debut in "Thelma & Louise," Pitt has juggled major studio films like "Interview with a Vampire" and "Moneyball" along with arthouse fare like "Babel" and "Tree of Life."
Pitt both produced and stars in the forthcoming "12 Years a Slave," a haunting true story about a man named Solomon Northup (Chiwetel Ejiofor), a free black man who is cruelly tricked into becoming a slave. The film is directed by Steve McQueen, who's no stranger to dark projects (see: "Hunger" and "Shame").
Aside from "12 Years a Slave," which has earned rave reviews following its Toronto screenings, Pitt is also set to appear in next month's "The Counselor," opposite Michael Fassbender and Javier Bardem. Next year, he'll headline the World War II drama "Fury," alongside Logan Lerman and Shia LaBeouf.
Meanwhile, Plan B is currently producing the drama "True Story," with James Franco and Jonah Hill.
But a busy production schedule isn't the only thing on Pitt's schedule, as the actor is set to tie the knot with longtime partner Angelina Jolie. The two first confirmed their engagement last year but have yet to announce the date of their much talked about nuptials.
It may be argued that "World War Z" shouldn't be stretched into more films because it may look to some as though the studio is trying to squeeze as much money as they can from an appealing concept.
Sure, pursuing profits is nothing new in the movie business but when audiences can sense that's the central motivation behind a movie getting made, they're less likely to head to the theater. It also wouldn't be unreasonable to conclude that World War Z's success isn't likely to strike twice.
Production dates for the "World War Z" followup have yet to be announced.
Would you pay to see another "World War Z" film?
Be the first to receive breaking news alerts and more stories like this by subscribing to our mailing list.