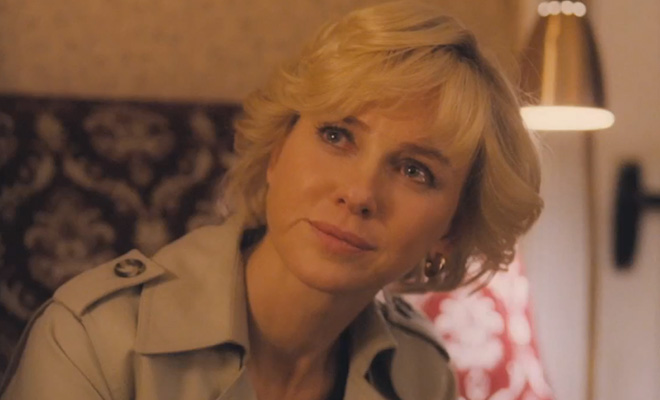 The first full length trailer for "Diana" has finally arrived! The highly anticipated film features Naomi Watts as Princess Diana and chronicles the famed Royal's whirlwind life.
The initial promo for the film focused on the Princess's life from the outside looking in.
The problem with that was, as the trailer puts it, Diana was the "most famous woman in the world" and consequently, so much of her life was captured by the media. Her glamorous red carpet appearances and humanitarian photo ops are all things we've seen before.
Thankfully, the full trailer shows that the flick delves into the gritty reality of Diana's world and challenges the notion that royal life is one of privilege and excitement. Furthermore, the biopic seems to offer a critique on how vile the world of celebrity can be.
It'll be interesting to see the duality of the Princess's life, as she was repeatedly torn apart in the tabloids, yet adored by millions throughout the world.
"Diana" centers on the Princess's doomed romance with heart surgeon Dr. Hasnat Khan, who was arguably the love of her life. Their relationship reportedly crumbled due to the intense media scrutiny that surrounded her every move.
Not surprisingly, Watts has generated considerable Oscar buzz for the role and it's about time she's a frontrunner for the award.
She was unjustly snubbed by the Academy for "Mulholland Dr." in 2001, despite the fact that her performance in the head-scratching shocker was one of the best on-screen turns that year.
In 2003, she earned a nod for her haunting portrayal of a grieving mother battling drug addiction but lost out to Charlize Theron for "Monster."
Last year, her portrayal of a desperate Tsunami survivor in "The Impossible" assured that she was among the list of Best Actress nominees. Unjustly, the odds were stacked against Watts, whose riveting performance should have made her a top contender.
Few believed the actress had a chance at taking home the gold statue and they were right because Jennifer Lawrence ended up nabbing the coveted honor. Hopefully, the Naomi's luck with the Academy will turn around.
"Diana" is set to debut on October 10.
WATCH THE TRAILER HERE:
Be the first to receive breaking news alerts and more stories like this by subscribing to our mailing list.